Sandra Lynn Dodd
Biographical This'n'That

I am Sandra Dodd. My other names have been Sandra Lynn Adams and Sandra Adams Gill. The one that has stuck always has been "Sandra." I grew up in Espanola, New Mexico. I live in Albuquerque. I'm married to Keith Dodd who grew up in Alamogordo. We live in a rambling pack-rattish house full of music and laughter on a good day, and abuzz with frantic doings and deadlines being missed on a worse day.
I've been married to Keith Dodd since 1984, and we have three grown children.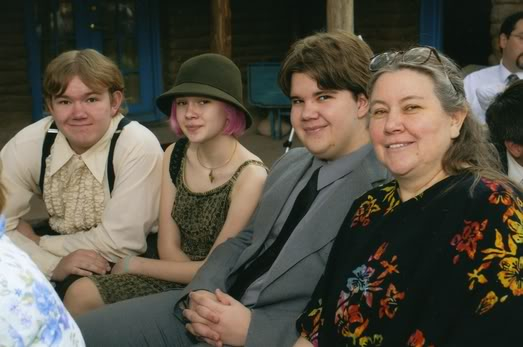 Kirby (Kendall Kirby Dodd) is child #1, the experimental model. He was born in 1986, and has worked in Austin for Blizzard Entertainment for over five years. [Married to Destiny; three daughters.]
Marty (Martin Alexander Dodd) is sweet, strong, funny and honest. He's engineerly, like his dad. He's a gamer and is great on skates (roller blades or ice), and in his old age now is taking up skateboarding some. He's attending Central New Mexico Community College, and drives a Jeep Wrangler he's buying himself. He was born in 1989 and has had the same girlfriend for years. [They married, have a boy and a girl, new cars, good jobs...]
Holly (Holly Lynn Dodd) likes ideas, and has a zinging sense of irony and humor. She turned 21 in late 2012. She has stayed with other unschooling families in Oregon for a while, London, and Quebec for several months. She works a couple of part-time jobs and attends community college classes. [About to turn 30, works at an artsy vegetable farm, moved across town into a house she owns.]
Unschooling and Parenting
My main online activities have to do with that sort of radical homeschooling known as unschooling. I write about unschooling and I [used to] speak at conferences sometimes, and run workshops upon occasion.
Information about me in the words of others: SandraDodd.com/otherwords.
Philosophy
There's more and more talk of ethics in the world these days, which is wonderful. Virtue is alive and well, and accessible. With a combination of the mental massage of American Buddhism and the ideals of chivalry, people can go a long way toward impressing their moms (AT LEAST!) and being good neighbors and valued friends. The more good there is in the world, the better the world is.
Music
Folk music interests me, especially traditional ballads, Christmas things and kids' songs. I play recorder, folk guitar, and keyboards some. Keith and I have done a lot of singing together over the years, but we're getting old now.

There are a few videos I've made of songs I knew from childhood, and of my mom's music box. I will collect them at Some personal music.
Religion
I used to have a lot of religion, but no more. I'm very interested in what people believe and why and what they do with it. I make jokes about it, but just because something's funny doesn't mean it's not *TRUE!*
Society for Creative Anachronism
I was involved in the Society for Creative Anachronism from the late 1970's. It's where I met my husband and many of my best-loved friends. Within and around that organization, I was known as Ælflæd of Duckford and I live in al-Barran, in The Outlands. Some of my notes and writings are here: SCA pages. I haven't been to events for a few years, but I still help Keith and Marty with their equipment, clothing and food.

Links to bio by decades

I might never get all the links in one place, but the Christmas letter from 2020 is good and has five grandkids (four born in four years in a row, and photos).
I think if you have a facebook account, this will lead to a lot of photos from 2019, and back and forth. Local sights, cat and a roadrunner, grandkids, Keith, house, yard...
Links to photos of my travels, mostly after my kids were grown, mostly speaking to unschoolers, touristing, visiting other unschooling families.
---
People in general (lots of SCA friends, and some others)

Kirby's family tree from his birth announcement, and below that the one my granny made for me when I was little: sandradodd.com/familytree

Some ancestry notes, mostly sketchy with links to others' notes.

Adams

Yates

Hathcock

Houghton