NEW to unschooling?
Help is here! Beginning
Deschooling
Gradual Change
Do It

"Read a little, try a little, wait a while, watch."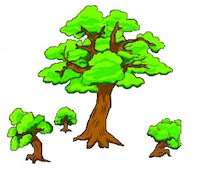 LEARNING ALL THE TIME
People learn by playing, thinking and amazing themselves. They learn while they're laughing at something surprising, and they learn while they're wondering "What the heck is this!?"

My favorite and oldest discussion group is called AlwaysLearning,
where the principles underlying unschooling are the topic.
On facebook, archive of Radical Unschooling Info
(no longer active, but visible and searchable)
CAN IT WORK IN THE REAL WORLD?
If unschooling can't work in the real world, nothing at all can. People will say "How will they learn algebra in the real world?" Is there algebra in the real world? If not, why should it be learned? If so, why should it be separated artificially from its actual uses? "Why?" should always be the question that comes before "What?" and "How?"

There is a Sesame Street book called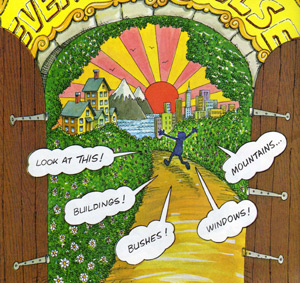 Grover and the Everything in the Whole Wide World Museum. There is a "things under the sea" room and "things in the sky" room, but still each room is just a room in a museum, no windows, everything out of context. Then he opens a big door marked "Everything Else" and goes out into the sunshine. There is unschooling.
I wouldn't pay more than $5 for it.
Because it's available as a kindle book, the used-book prices... (down for a while... back up) Amazon's listing (U.S.)
More images are here
NOT JUST FOR KIDS!
The way adults tend to learn things is the way people best learn—by asking questions, looking things up, trying things out, and getting help when it's needed. That's the way pre-school kids learn too (maybe minus the looking things up), and it is the way "school-age" kids can/should learn as well. Learning is internal. Teachers are lovely assistants at best, and detrimental at worst. "Teaching" is just presentation of material. It doesn't create learning. Artificial divisions of what is "educational" from what is considered NOT educational, and things which are "for kids" from things which are NOT for kids don't benefit kids or adults. Finding learning in play is like the sun coming out on a dank, dark day. [Playing]
LINKS TO OTHERS' WRITINGS
THIS PAGE IS OLD for a webpage.
Click here to see the oldest preserved version from August 2000 .. It was at least a year old at that time (July 1999 or older). Expage.com was an early free webpage-hosting site. Size was severely limited. We counted words and letters. When something was added, something else usually had to be deleted or shortened.
Current and better main page:
SandraDodd.com