Martin Alexander Dodd was born on the 14th of January, 1989.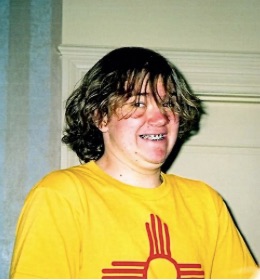 He is called Marty, Martin or Bardolf, depending who's calling him.
Marty used to play a lot of Doomtown and western-themed stuff, other CCG and strategy games, lots of online and computer RPG things, and to make his sister happy he learned the Harry Potter CCG in those days. On Halo he's Airport Ninja.
written in 2009 or so...
In the SCA, Lord Bardolf Gunwaldtsson is squired to Duke Artan macAilin, who is also his godfather.
Never having been to school a single day, not even visiting, Marty has hidden away (not very well) from mainstream civilization (not counting when he was ice skating or roller blading, or taking karate lessons, or hanging out at Active Imagination or gaming tournaments the mall or the skatepark or the movie theaters or coffee shops) with a select group of imaginative friends and relatives.
He almost never answers e-mail, but you could be another in the growing list of special people he has failed to respond to by writing [email protected] ah.... never mind.