This writing was published in 2007 in "Connections," a ezine that no longer exists.
It might eventually have more or different images.

Following Our Passions to Bonnaroo
by Ben Lovejoy

—Dedicated to all artists whose dreams are bigger than the sum of all reasons "why not,"
whose visions create a better day, and whose talents know no boundaries or limits.

—January 2007
---
There are some things that have become very familiar, almost comforting, to me while driving to Bonnaroo over each of these past three years. Departing from our home together in the mid-afternoon sunlight during the 2nd week in June… cutting off 20 minutes of our drive by taking US Highway 1 in Columbia which splits I-26 and I-20…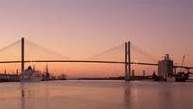 seeing the Savannah River as we leave South Carolina and enter Georgia… enjoying the Atlanta skyline at dusk despite the heavy traffic of commuters traveling home… driving into the mountains of Georgia and Tennessee as the moon rises… and feeling the excitement rise as we get closer and closer to Manchester, Tennessee—our camp site away from home for three nights and a wake-up with 80,000 of our closest friends.

Cameron and I have enjoyed these sights together over the past three years. My familiarity with some of them is stronger because I've seen them more often than he has, but I've never remembered them as clearly and in the same sequence as I have in the past three years that we've driven the road to Bonnaroo together. I've found myself looking over at him as we drive, trying to see these familiar sights through his eyes. We've actually gotten to the point where he no longer asks how much farther to Bonnaroo as we reach certain points along the way. We've taken the same route enough times for him to recognize the landmarks that indicate we're 3 or 2 or 1 hour away from our destination. And what a destination it has become.

Every generation has its musical icons. In past decades, Elvis and Jerry Lee Lewis rocked as my mom listened to the radio in her late teens and early twenties; I was weaned on the Beatles and the Stones; U-2 and REM defined the music scene for many of those coming of age in the '80s; and CKY was Cameron's first musical icon from the late '90s. Now, I realize that CKY is not a band that most of us would see as an icon since most of us have not heard of Camp Kill Yourself or listened to their music. Never mind any of that—the band was my oldest sons' first and favorite band, and icons are in the ears of the beholder, after all.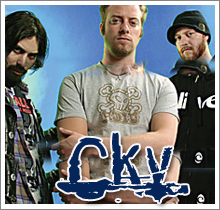 Jumping headlong into his passion for music, Cameron enjoyed everything CKY. He had their music, autographed paraphernalia from concerts and chance meetings with the band members, and a wall in his room dedicated to his painted vision of their logo. This two-year music passion with CKY at the forefront led to other groups from a similar genre. About a year into unschooling, Cameron's passion for music broadened to other forms of music. I remember him asking me if I could recommend one CD for him to jumpstart this new vision of music. I remember thinking for a second or two and responding, "Sergeant Pepper's would be what I'd recommend." Years later, I now realize this was what Cam needed to get to Bonnaroo with me as his companion, just as I needed something from him to help me prepare for our journey.
Music has been a large part of my life for decades. I grew up in a crossroads time where many forms of music merged to create the road map for today's music. At a time when everything was new because of '60's experimentation with music (and everything else, for that matter), I became somewhat insulated in my musical preferences. I wasn't as stubborn as my sweet wife about my musical preferences ("Nothing after 1980 is worth listening to," she proclaims), but I was getting to that point. The two things that changed that for me were Rolling Stone Magazine and the birth of my oldest son.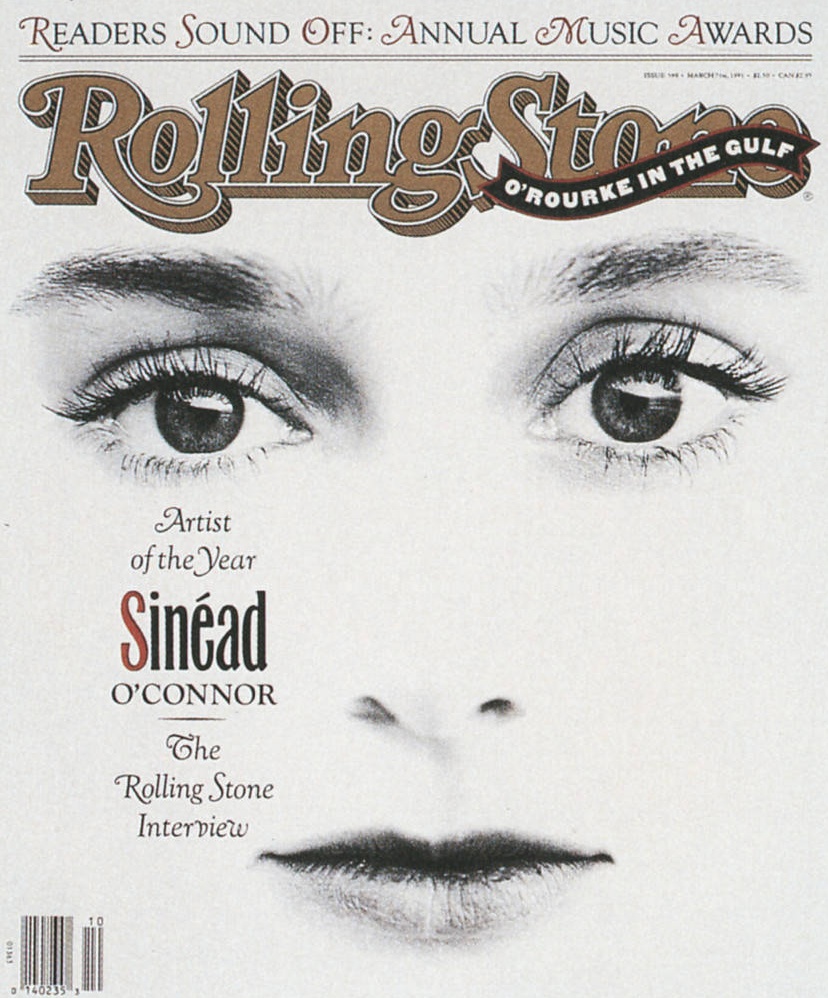 Rolling Stone offered the opportunity to read about and ultimately listen to newer bands. Cameron's birth came just as I began a love affair with some female artists whose music I heard while living in Germany. Tracy Chapman, Natalie Merchant and 10,000 Maniacs, Edie Brickell and the New Bohemians, and Sinead O'Connor captivated me and led to my resurrection of sorts for another musical journey. Cameron sang part of a Sinead O'Conner song when he was only two. Now that may not seem like much in and of itself, but it proved to bring something between us full circle. I, too, had sung the lyrics from my first song when I was two: we must have not had much we wanted to say before we found the music.
I remember considering this possibility not too long ago—how music has a way of finding you and letting you find it at the time that you need it most. I now believe it's what may have guided me on my road to Bonnaroo for the first time several years ago. Bonnaroo has become as much of a journey to me today as the music of the late '80s was to me then.
~~~~~~~~~
A little history on Bonnaroo: as music promoters in the US looked at ways to bring music to the masses in an affordable, peaceful, and enjoyable format, they turned to their European brothers once again for help. What they found was a blueprint that combines music with other art forms and packaged it into a three- to four-day overnight musical festival. As this type of festival—think Burning Man—took hold in other parts of the country, the young men from Superfly Productions created their own festival, primarily drawing from jam bands, avant garde performers, and other artists on the fringe of mainstream music. Coupled with musicians are comedians, film makers, body artists, carnival performers, and the extremely creative force of the tens of thousands of fans who attend Bonnaroo each year.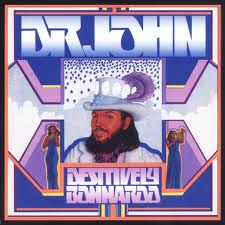 With the support of sponsors, eco-businesses, tie-dyed vendors, food and beverage vendors, and an assortment of others, we all have the collective, dedicated commitment to create the atmosphere New Orleans R&B giant Dr. John popularized with his 1974 album Desitively Bonnaroo. A Cajun slang word meaning "a really good time," the Bonnaroo Festival is that and much more. It is a celebration of kinship, love, connections, and the common path that brings together the most uncommon of people into one peaceful place in time. Elvis Costello, one of last year's performers, captured the truth that is the Bonnaroo experience when he sang: "What's wrong with a little peace, love, and understanding?" during his Saturday set. Nothing at all, I say.
~~~~~~~~~
Like Bonnaroo's list of performers, Cameron's and my supporting cast of characters has changed annually. We spent our initial Bonnaroo with another father-and-son duo from Columbia, George and John Hearn. Two of the biggest, most knowledgeable music fans I know, George and his dad couldn't have been better hosts our first year had we been able to hand-select from anyone in the world. They were that important to our first visit to Bonnaroo. The second year, I caught up with Cameron and some of his friends after a weeklong business seminar I had the week preceding festival weekend. Last year, we spent Father's Day Weekend grooving together with Cameron's girlfriend, Carly; my brother and nephew; and my brother's friend and his son. We put Bonnaroo on the map for Carly, and she was a large part of my favorite Bonnaroo to date.
Carly embodies the classic Bonnaroo fan. She loves music, appreciates all different types of performers, is open to new adventures, and likes the adventure more when she's sharing something different with people who also enjoy different. When people like Carly come together with other Bonnaroo rookies to join veterans of the festival, a big part of the Bonnaroo magic happens. Those who've already enjoyed the Bonnaroo experience are there to ensure their experience is preserved within those who come for the first time, a cycle that continues to be passed along each and every year. If the veterans don't honor their responsibility, then Bonnaroo runs the risk of fading like the sun over the horizon. So far, veterans have upheld their part of the bargain. The men from Superfly Productions must have banked on that: this past year, they bought the land that has been home to Bonnaroo since its inception in 2002. They must know the feeling of love and the connection of that love with the people who enjoy the festival.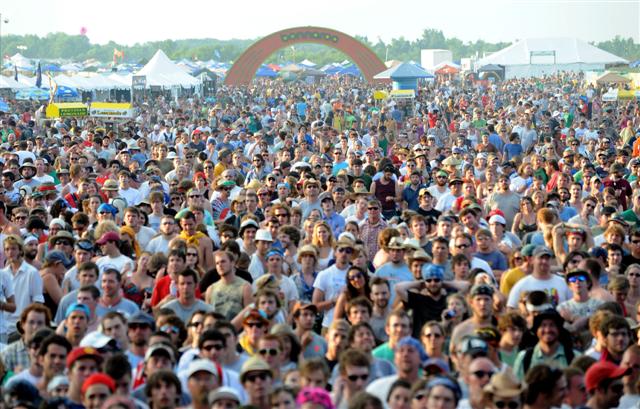 I love what we share at Bonnaroo. Our collective love of music… our love of film and performance… our interest in up-and-coming artists… our love of camping and hanging out at our camp site… our ease of meeting new and interesting people no matter how briefly … our opportunity to see veterans of Bonnaroo's past and to enjoy the amazement of rookies to the festival… the atmosphere of peace and connection to a greater good… and, of course, shared time with family who are engaged in a similar passion. Although I don't presume to know what magic occurs when one follows a life filled with passions, I know that magic does happen—with deep wells of reserve. And when we examine our respective histories with our children, we understand how much things change while seeing how much they stay the same.
Singing a song before saying "Mom" or "Dad" or watching our first live musical performance at the same age are two examples of things that Cameron and I have in common. The simplicity of those examples should not be misunderstood. Each small way we're tied to our children adds to the tapestry that our respective lives weave. And when the story is shared with grandkids and their grandkids, it has the opportunity to become part of lives yet to be. The stories of our lives are the songs that we sing now so they can be shared later with those who intend to hear them—a truth that Bonnaroo embodies.
Bonnaroo was not the crossroad where Cameron's and my shared love of music intersected, but it is where I realized how much music meant to us both. Our respective tastes in music have come full circle because now Cameron gives me advice on what music will make a difference to me just as I had done for him seven years ago. I am now the richer for that connection.
Maybe it's true that all roads once led to Nashville in the music world, but we stop short of that shrine when we land at Bonnaroo some 75 miles Southeast of the famed city. From the whole of our experience during those long weekends in June over the past four years, the road that makes all the difference to us is just off of I-24 several miles from the heart of a small farming town. That road leads to another smaller road which leads to a dirt road that opens onto a 700-acre piece of farming property that's home to Bonnaroo. The seeming difficulty of the directions to the festival are made all the more simple because of our sense of purpose to get there. We're motivated by our sense of togetherness to reach the final destination and to return there again and again and again. We no longer care about the cast of performers as much as we care for the experience that Bonnaroo has become for us.
---
PART 2: Making the Most of What You Have

—Dedicated to the improviser in us all. —March 2007
---
For the past three years, Cameron and I have made the seven-hour trek from Columbia, SC, to Manchester, TN, to enjoy what has become a pilgrimage of sorts for us. What awaits us at the end of our travels is a festival called "Bonnaroo," which is Cajun for a "really good time." Bonnaroo unites artists from the music world with those from the film world with those from the acting world with those from the world at large.

80,000+ people come together for four days in June to celebrate this joining together. They celebrate music, film, art, freedom of mind and spirit, unity, community, and many more things that could easily fill in the space of this article if I were so inclined. Suffice it to say that through this celebration, we come to learn the reason for our pilgrimage is the connection to all those who've joined us at this 500-acre "mecca" of art and entertainment.

Music is the dominant art form, and artists from all genres are present. There is even someone who is responsible for the physical layout of the music venues where over 125 performances will take place over the four-day event. The "What" and "Which" stages accommodate the more popular groups of the day, and, as such, have the most space for the most people. The "This," "That," and "The Other" tents are smaller and where we see up-and-comers or those artists on the fringe such as Steve Earle, Lucinda Williams, and Patty Smith. It is without question that, at these humbly-named tents, you see the best music.

The larger stages capture the wonderful energy from more popular artists, and we've had some great times grooving with their music. But the intimacy of the tents captures as much energy as the stages and gives you back the connection that Bonnaroo generates throughout the long weekend. In the sifting of the extraordinary from the more "common" venues is where you find the best that Bonnaroo has to offer.

My favorite memory of Bonnaroo ever actually occurred this year, but at none of the music venues I listed above. My favorite memory involved five boys who had never met who got together at a row of trashcans and gave about 100 people one of those memories that last a lifetime.

Cameron started drumming in earnest on Christmas Day, 2003. Santa whisked a set of drums into our room over the garage for Cameron. The metallic blue drum kit looked really cool in that room, and he took to those drums immediately. Where he thought the gene for drumming would come from, we couldn't say since no one (that we know of) in either family several generations back is musically inclined.

But as with all of our other unexplainable "genes," unschooling and the uninhibited pursuit of one's passions make up for what is not intuitively obvious. They seem to overcome so many obstacles. Cameron has played his drums at least two hours per day every day since he's had a set. His drums and his playing have led to the person he is because of the connection he made with that first set of drums.

****

Spring forward to the early morning hours of Monday, 19 June, at Bonnaroo 2006, when everyone who had seen the final music performance was heading back to his/her campsite. Cameron, his girlfriend, Carly, my brother, and I split from the crowd to take a longer, but less-crowded route back to our campsite.

This route takes us through Centeroo, the "main street" of Bonnaroo. Here we find vendors, sponsors, supporters, and others who add to the atmosphere but also contribute to the banks of trashcans strategically placed throughout to handle the waste from an event so large. At one of these banks of eight trashcans in Centeroo we spot a lone drummer sounding out his own beats inspired by the music in his head.

As the word "cool" drifts back to me from my son as he walks quickly toward the trashcans, I notice Cameron lean over for a pair of thin limbs on the ground. I watch as he joins his new "brother" with improvised drum sticks, creating his own beat and drawing the curiosity of several people taking the same route back to camp.

As Carly, my brother, and I find the spot where we would remain for the next 20 minutes, we watch two more drummers join Cameron and the first drummer. As beats, new beats, and still newer beats drift into the night, more "fans" draw alongside, in front of, and behind us, forming a circle around the drummers. We drink it in and marvel at how this improvisational troupe takes on a life of its own.

I revel in the fun these kids are having and the rapt the attention of the fans. It's magical. I hear a guy remark to my brother that this would be his best memory of Bonnaroo by far. I can only nod in agreement. The final beat sounds on those trashcans, and over 100 pairs of hands and 100 voices boom in synchronized appreciation, sending goose bumps across my skin.

And to think that what began as a dream to become a drummer in 2004 led to this moment of powerful connection with five like-minded people from other parts of the country to perform for 100 people in a grass field in the middle of Tennessee in such a way. That's the beauty of being in the moment and what we're so fortunate to share.
---
You can find more information about Bonnaroo at the website www.bonnaroo.com. You can get a flavor of Bonnaroo's past at the site now and also see the initial musical artist line-up there now as well.
More by Ben Lovejoy

Focus, Hobbies, Obsessions

Being in, with, for...