Unschooling and Math
Pam Sorooshian
Good Vibrations Conference, San Diego; September 2009

Shared here with the permission of Flo Gascon, the conference organizer (and by Pam Sorooshian).
Listen here
or download your own:
http://www.archive.org/details/UnschoolingAndMathByPamSorooshian
Unschooling and Math
"We unschool everything but math." That's what some people say. Seems like it is difficult for many people to trust in unschooling when it comes to math. Is concern over math still lingering for you? Pam will give you lots of ideas for how you can and should relax and fully enjoy and embrace unschooling. Even math.

Pam did another presentation in San Diego too. The recording didn't work out, but the description of the talk is here:

"So, How has Unschooling Worked Out?"

Pam's kids are all adults at 18, 21, and 24. What is it like to have grown unschooled kids? Get unschooling ideas and advice from someone who has been there, done that. Want a confidence boost? There will be time for you to ask any unschooling questions you might have.

(No sound file available, unfortunately.)
---
The Sorooshian family: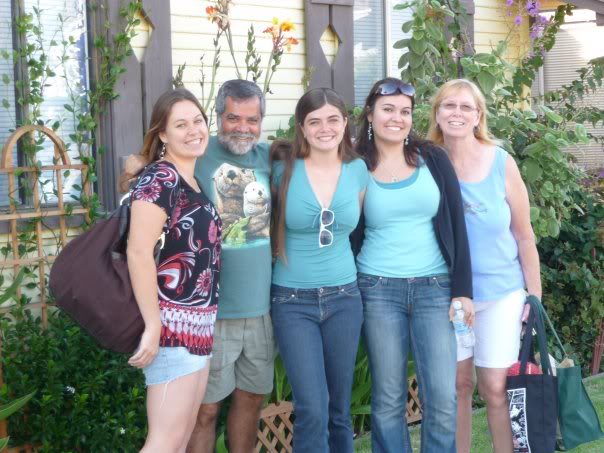 Pam Sorooshian
I'm a 5th generation Californian, married to an Iranian man, and mom to three unschooled and now-grown daughters (24, 21, and 18 by conference time). I have taught economics and statistics at the college level for over 30 years. I really love children's picture books - especially Patricia Polacco and the Lobels. Over the years, my family has become more and more immersed in the musical theater world and last summer we finally got to go to Broadway where we saw six shows in six days.
When I was in high school, in the 60's, I ditched school so often that they almost didn't let me graduate even though I had nearly a 4.0 GPA. My mom interceded and I did graduate and sort of drifted into college, because my boyfriend was going, where I was hugely clueless about what I might want to do with my life. I changed schools and majors quite a few times (including a year going to school in San Diego where I took philosophy and world religions classes). I really could not settle on anything, but somewhere along the way I took a class in which I read Summerhill and some John Holt. I was sold on freedom from coerced schooling, then, but I decided to get a business degree so that I could get a decent job and stop living in what was, in those days, anti-establishment counter-culture hippy poverty. I chose economics because I used to have huge political "discussions" with my very conservative businessman father and he'd always win by saying I didn't understand the economic issues; because there were almost no female economists; and because I could do the math that other people had so much trouble with. Since then I've helped a lot of people with math and given a lot of thought to why most people are at least a little math phobic.
Later, when I had children, I had a pretty clear idea of what "ideal" schooling would entail (lots of freedom) - and when my oldest reached school age we tried to find the perfect place for her. That was right at the beginning of what was the short-lived "whole language," "integrated curriculum," "constructivist math," and "authentic assessment," movement, so we had a few good years of school with no "lessons" or "assignments" or "tests" or "grades." Then the "accountability" craze kicked in and things went downhill fast. I got on AOL where I found Sandra Dodd and others talking about unschooling, and I was instantly hooked. I was, in fact, THRILLED. That was in April 1994 and that was the end of schooling for us.
These days, I devote a lot of time to speaking and writing about unschooling and parenting. What gives me a thrill is knowing that there are children out there who are living happier lives because something I said made sense to their parents!
Pam Sorooshian on Unschooling and Learning

Links to other sound files (and some videos)