Knotwork
Celtic and Norse knotwork links, ideas and information
This page was originally set up as an intro for a knotwork show-and tell-hosted by Keith and Holly Dodd, at the 2005/St. Louis installment of the Live and Learn Conference. The event is long gone, but this page remains, and I have and will add more things Keith's done, and maybe Holly too!
| | | |
| --- | --- | --- |
| | | |
| Keith carving in the garage, with an Xacto knife and little chisels | Keith closer, making a lid for the box you can see already stained on the table mid-photo... | ...and the unfinished carving you couldn't see at left. |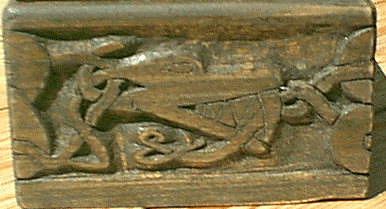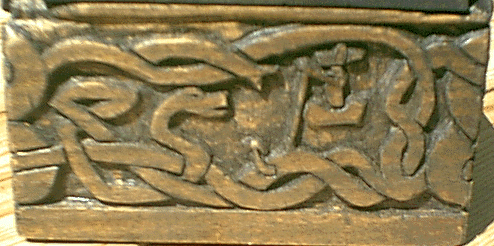 The Midgaard Serpent goes around the box.
Thor is fishing for him and hooked him, but the serpent just grew more heads.
| | | |
| --- | --- | --- |
| | | |
| Keith (Gunwaldt, when he's dressed that way!) holding the finished box, which is a gift and will be gone soon. | whole box | top, which slides in |
---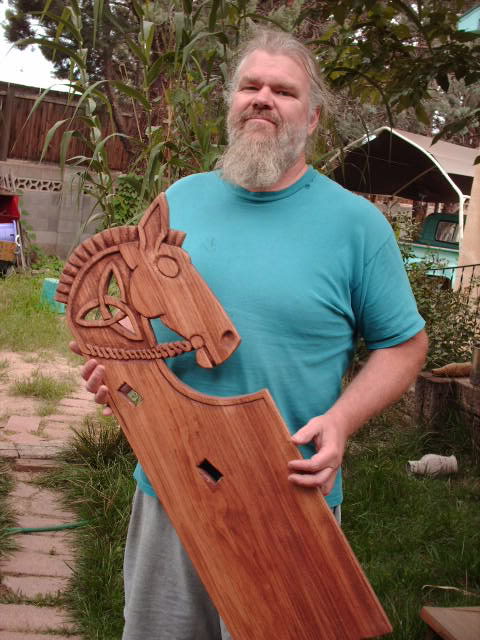 Four sides of the Kingpiece of a Kub game (click to see much more):




This is part of a bed Gunwaldt made that belongs to Dubheasa now (click to enlarge)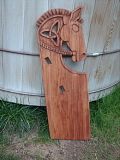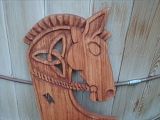 Dragon heads for Viking a-frame. The eyes are knots in the wood. Front and back details are shown. Click to enlarge (and you can click there for further enlargement).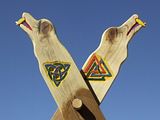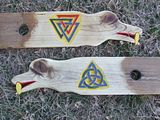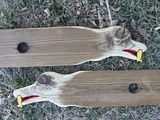 In June 2007, Keith did a workshop (as Gunwaldt Gulbjorn; an SCA workshop) on knotwork. Photos and notes are here. There are also photos of a knotwork spoon made by Will Heron, and Bardolf's shield (also shown below).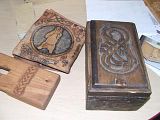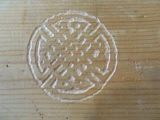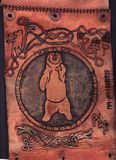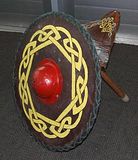 | | |
| --- | --- |
| Here's some of Holly's knotwork, just done for fun, some of it unfinished. This is one of the first times she did any, when she was 11. (and one slightly-later knotwork-related scribble that's very cool) | |
---