Guest Fest, al-Barran
Meet People and Learn Things


Master Gunwaldt Gulbjorn, on Knotwork

Master Gunwaldt brought examples of knotwork applied to wood and leather and discussed how to transfer and work them.

Will Heron brought a spoon he had carved for his wife as an engagement gift, and a block of wood he had obtained and carved in the Phillipines. Bardolf Gunwaldtsson brought a round shield on which he had painted knotwork he found online, enlarged and traced onto paper from the computer screen (a repeatable section). The round shield and spoon are pictured below.

Although Gunwaldt had brought some woodworking tools so people could try them, the seventeen attendees spent their time quietly engrossed in working out how to turn corners and fill particular spaces with knotwork, on pre-dotted sheets Gunwaldt had brought.

Both the "interlacing without erasing" method and some freehand knots were shown and discussed.

Because the dot method involves working around the dots, rather than connecting them, Gunwaldt showed a couple of woodworking projects on which he had carved away or drilled through his dots, and worked straight to the wood, rather than working the design out on paper and then transferring it to the wood. Other carvings had been on paper first and traced on.

Some of the photos from the evening were fuzzy because the flash would have disturbed people, so some photos and scans of objects were made later on.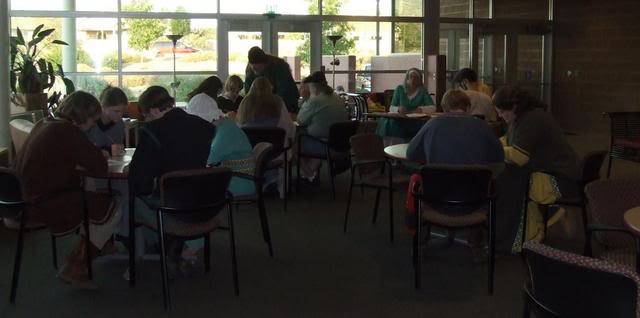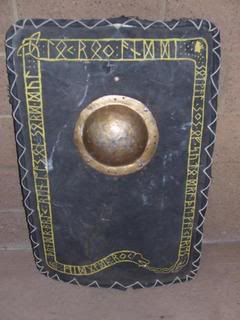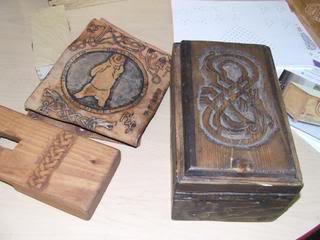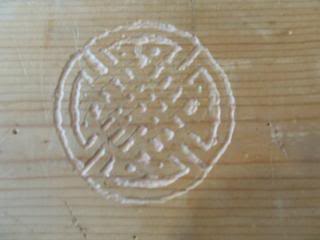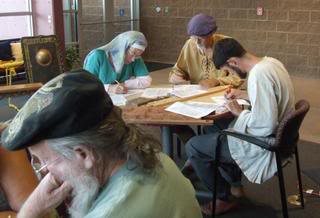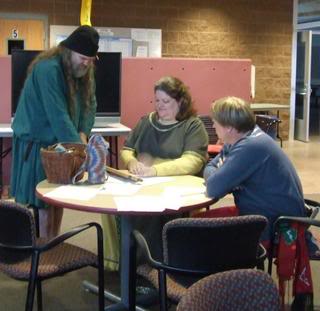 Will's spoon, Bardolf's shield, and a leather stool painted by Bjarni Kenhelm (not present):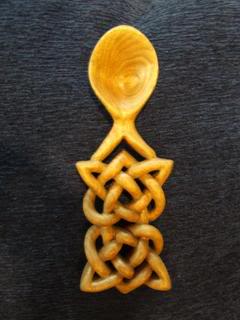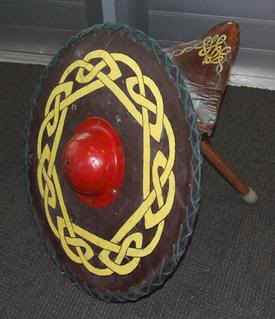 The main handout: Eowyn's original one-page handout Interlacing Without Erasing
and another person's online explanation, based in part on that, Design and Construction of Celtic Knotwork by Marko Evanovich Panfilov.

There are many other knotwork links from this page: Knotwork (which has photos of Gunwaldt and some of his woodwork, too)


Those present: Pètr Olafsson, Minette Bontecou, Lucia, Jim, Viviana, Djurig von Aukring, Samuel, Triaria, Amy, Beatrice, Kendrick, Bardolf, Asta, Will Heron, Magge, Will's two cousins, AElflaed
Photos by AElflaed and Asta