Cordon Royal of Artan VI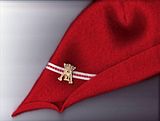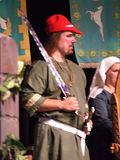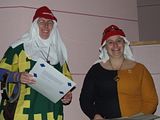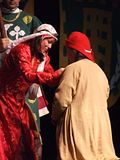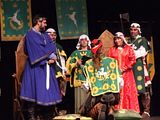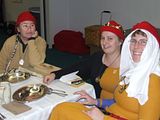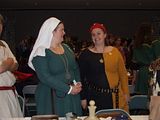 Ansteys, the hatmaker, on the left.
Photos by Beatrice of Shadowskeep.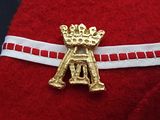 Instead of a garter, Artan gave a felt cap with a hatband and pin. Other retinue members received a pin too, in bronze. The hats have that pin gold plated. Queen Aziza created the original and Sir Raymond cast the copies. The design was based on a pin Queen Alexandra had made for members of the regiment. (Click any photo for a close-up.)

Those who received the Cordon Royal were Mordygan (King's Champion), Matilda (Mistress of Ceremonies), Anne (Head Lady in Waiting), Ælflæd (Steward) and Charles (Blue Iris Herald). (Click the hat for a larger view of the detail, a little smooshed in the scanner; Lady Ansteys Darcy made the caps.)

The hats were put on us different ways from the beginning and we wore them various different ways during the day.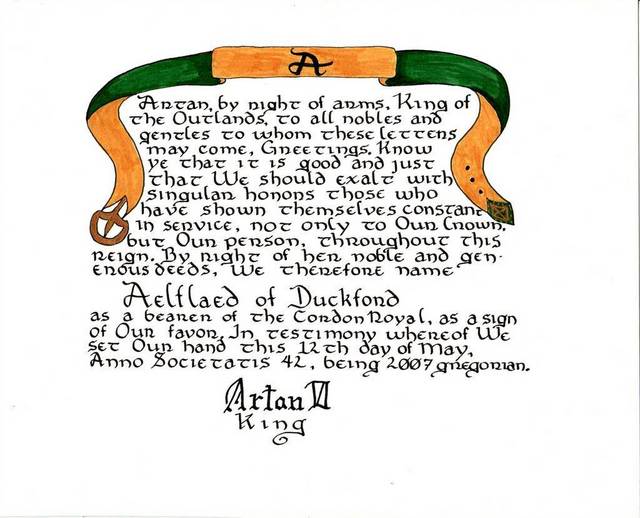 The scroll is by Dreamweaver (Lady Elanor O'Halloraine).
---
Awards in order of bestowal * Awards in precedence order * Duckford Home