ShellinNZ: and my 10yo ds still holds my hand! (Sometimes)
JennyC: Chamille definitely does better with that kind of attention
RVB: My 14 year old, too!
JessicaSexton: I try to periodically cuddle Michael. With full attention and love.
SandraDodd: I was a little impatient. FIRST reaction was to explain all I knew about cheese, and the second one was to tell her to leave me alone until after the chat.
ShellinNZ: RVB..woot!
RVB: W00t! It's great.
ShellinNZ: Sandra...that happens to me too...then I feel terrible about it- like I have just said...I'm sorry Darling, you are not as important as the computer :0(
JennyC: We have a cheese factory nearby that gives tours and free samples
ShellinNZ: we have a lady that teaches peopel to make their own cheese! I'd love to try it, very time-consuming apparently
katherand: Anything else that helps with BEing with our child/ren?
RVB: And I've had the reverse, Shell. Michelle's computer is more important than me at times.
strawlis: I need the less distraction route myself...and yes redo, do overs when I've not been able to be present
ShellinNZ: RVB...same :0)
SandraDodd: Hey, Holly's 17 years old. She can wait.

Seriously.
ShellinNZ: I love the idea of a re-do...haven't pulled it off yet though
CherylEtzel: To be with her, I have to let go of whatever project I'm doing that is contrary to being with her
ShellinNZ: I know :0)
RVB: Yes.
reneecabatic: I find it helpful to not be looking for a "finished" product.....
SandraDodd: That's true of anything. Whatever's contrary to being, is the not-being.

CherylEtzel: Natalie is only 6, she can't wait, though I still sometimes try
strawlis: Try-it— it-s great...kids love it
SandraDodd: So it's always in the moment.
When my kids were little I hardly ever sewed because I didn't want to drop a pin a baby could find.
ShellinNZ: My children are like that when I am on the phone...I am hardly ever on the phone, and they just bowl up to tell me all sorts of stuff...and the other day I said, "Honey- can you not see that I am on the phone?" One said, "No- had no idea! Sorry Mum!"
JessicaSexton: What helps when even your child seems to have trouble knowing what they want? I am trying to clarify how to ask that question.
RVB: And as they get older, you can ask them to wait. Sometimes they will, sometimes not.
SandraDodd: So if I wanted to sew for the babies, I would get the stuff out quickly when they went to sleep, sew like crazy, and then put it all away.
mindyh: sorry for the late arrival..again...but i wanted to add that I have to really stop myself from my knee-jerk reaction to get my "to-do List" finished
SandraDodd: But now, I can leave it all out. It's not "how do you sew," it's "how do you protect the kids"
ShellinNZ: Put "Play with child" on the list!
JessicaSexton: Protecting the kids from each other too, Sandra.
ShellinNZ: works for me :0)
SandraDodd: If the sewing were my priority, the kids would be in the way.
CherylEtzel: Put "play" on the list... that reminds me
SandraDodd: If you make the kids the priority, OTHER things are in the way, and that makes your decisions easier.
JessicaSexton: Not from malicious intent, but from difference in age-appropriate activity.
ShellinNZ: I foudn I wasn;t reading to my little ones, and I put it on my list...it got done :0)
CherylEtzel: When I tried out my first chat, Monday
mindyh: before I do whatever it is they want/need me to do....like play
SandraDodd: Jessica, there might be ideas on the boredom article sandradodd.com/BoredNoMore I think
CherylEtzel: It was the first time (outside a few usborne chats) that I had to meet a schedule for an event that occurred on the computer
SandraDodd: Not sure exactly what the question was and it's scrolling out of the chatroom window...
JennyC: sometimes when vacuuming is my priority, the kids are in the way, or rather, I'M IN THE WAY
ShellinNZ: What if we say, "I'd like to play with you right now before I do the washing/dishes/tidying"
CherylEtzel: and since I'm on the computer often, and that is part of my projects and work (I daytrade),
JessicaSexton: Thanks Sandra, will check after chat
CherylEtzel: It's sometimes hard for me to finish up with something and come back to it later.
But when I had a scheduled chat at 1p
I KNEW i had to be off the computer a couple hours, at least to recharge.
katherand: question was: IDEAS for BEing with children... or that was *my* question. .:-D
CherylEtzel: So I SCHEDULED
SandraDodd: I used to run chats for AOL when my kids were little.
CherylEtzel: play with natalie at about 11am
It worked great.
ShellinNZ: Do you know none of my children have ever said they are bored?
SandraDodd: I hired someone to play with them. A homeschooled girl from up the road, and gave her $3 an hour to get them water or snacks or whatever during the chat time.
ShellinNZ: I know there are times when it looks liek they might be getting so...but then they think of somethign else to do!
SandraDodd: Two hours a week.
JennyC: chores and projects and anything related to household, is ongoing, so there isn't a time frame to get it done unless you have dinner guests coming
CherylEtzel: Now I'm thinking I should schedule play each morning, no matter how busy I am with daytrading
PamSoroosh: my kids have said they were bored - but they were pretty analytical about why they were feeling that way. "I feel bored. I think I need to get outside." Stuff like that.
JennyC: 10 min of devoted play goes a LOOOONG way
SandraDodd: Cheryl, someone needs to be with the kids all the time. If you can't, you should find someone to be with them until they're older.
Schuyler: Linnaea has said she is bored. The kind of bored makes a difference. The fidgety, itchy want to move bored, or the idle, zoning, looking for something new bored.
SandraDodd: Or at least set out things they could play with, find a new movie, make playdough, bring out puzzles... Set it up like a fancy layout of a school on parent visitation day or something elaborate. That might hold them for a few hours.
JennyC: setting kids up with projects that they can do side by side whatever you are doing is an easy way to connect while getting work done
RVB: Michelle has said she was bored. Same kind of boredom as Schuyler described.
JennyC: and don't forget the food and drinks
GabiNM (Guest88): Well, if I have to do something it waits until they are sleeping, which is why now i am only half here as the one and two yr old are awake and helping me type
JessicaSexton: The toughest times for me to BE w/Michael is when he needs me the very most. Lately he really really NEEDS me. He has said he wants to be with me ALL the time. He would crawl under my skin if he could.
SandraDodd: -=-question was: IDEAS for BEing with children... or that was *my* question.-=-
I'm bringing this back before it scrolls off. Can you expand, Katherand?
CherylEtzel: Natalie is an only child - when I'm on the computer she's either playing elswhere, or behind me on her computer (as she is now)
Schuyler: When I'm BEing with Simon and Linnaea it is important not to be aware of time or schedules or to do lists or anything else.
ShellinNZ: I know what you mean Jessica...I have a 28 month old who feeds all night. Every hour, but for the hour atm...it's insane
CherylEtzel: So she is not getting enough attention, then...
katherand: We're getting lots of ideas, Sandra. I'm just letting it roll.
CherylEtzel: I need to either change my activities, or hire someone.
ShellinNZ: Hi Schuyler...agreed.
JessicaSexton: I have to fight hard not to push away from that intense need. I am meeting the needs of a 11 month old at the same time and it is emotionally hard to be needed that desperately by both boys all the time.
SandraDodd: Some parents try to scrimp on the time they spend unschooling.
katherand: It's helped with doing this chat to stop, look around and connect with Karl myself. Usually he's the one to reach out when I'm on these things.
ShellinNZ: I find it hardest with three children (10, 6 and 2) that I can't be with them all at once when they are in separate rooms
Schuyler: Sitting and chatting with them as they wake up for however long they want me to is more important than any particular activity
SandraDodd: But usually one kids needs you most, and the older they get the less they'll need you so regularly.
ShellinNZ: and when they're falling asleep, when possible...I'm often asleep before my older children
SandraDodd: When one of my kids needs me now, it's usually intense and sudden. Marty really needed to talk to me yesterday, and he knew how to make that known.
katherand: Karl is way more likely not to "need" me intensely now that he's 5 almost 6.
PamSoroosh: Cheryl - maybe more scheduling of play dates would work - I mean, another kid in the house can be helpful. But maybe NOT with other kids who need lots of your attention, if you know what I mean.
CherylEtzel: Natalie and I have chatted several times, moved about the house, throughout this chat, though. That has helped us a lot, Pam
socal77: yeah, I can usually tell whether Drew needs to talk now, or if can say hold on a moment...I have to make sure to give him the moment though
CherylEtzel: in the past.
katherand: When Karl was a toddler he needed me pretty much continuously.
CherylEtzel: Especially when older kids come to play
katherand: I needed him too come to think of it... still was nursing.
PamSoroosh: Yeah - I don't think every time you want to do something on the computer, she needs other entertainment.
CherylEtzel: Finding the right playmate and then getting them over often is par to fthe challenge. I'm lucky that Jayn & Natalie have hit it off, what a great friend.
ShellinNZ: katherand...that's me now, but I have two other chidlren who need me too...not as much, but they do still need me. The eldest is 10, and he waits far too long for me some days
PamSoroosh: Just if you're working and really need to focus on that.....
SandraDodd: Holly's talked to me nearly non-stop during this chat and it shows (in my typing) that I'm not as here as I usually am.
She's talking about whether she could make schools better.
Yeah.
No.
CherylEtzel: And Natalie's best friend is also a great playmate, as is her brother. But still more needy at this time because of their age.
JennyC: I filled Margaux up before I got on here to chat, but even then, I've gotten a snack, a bandaid, and some baby doll clothes, all seperate things
JessicaSexton: It is tough for a 4yo to understand that sometimes the baby's needs are more pressing. He has a lot of anger around my being anywhere but with him at the moment. So it is hard to stay present with him in the way he needs me to.
RVB: Michelle's asleep!
katherand: Well Sandra.. that's not surprising... you started out wanting to teach in schools.
ANd make them better
RVB: Like John Holt!
SandraDodd: genetics. Damn it.
Schuyler: Linnaea's sitting next to me and on my foot at the moment and reading the chat and chatting a little. She says she's not really chatting. But she is really on my foot.
PamSoroosh: Some playmates are more trouble because they need you to be even more alert to what's going on. But there are times that playmates means the kids go off and play happily for a long long time - you might check up on them occasionally, but don't need you.
ShellinNZ: I'm making porridge, have breastfed 7 times, got a banana, cut up an apple, and chatted to my toddler over and over :0)
JennyC: I experienced that last night Pam
JessicaSexton: So true Pam. We need more of the latter type of playmate!!!
GabiNM (Guest88): am nursing and setting up 2 with colors
ShellinNZ: Iwas always amazed when my son was little that I could get more jobs done, *and* be with eh kids more if I just had someone over to play!
CherylEtzel: Yeah. I do like the older playmates - Natalie is 6, so older girls seem to be able to lead the play, well. At first, I do check on them a lot, though, to make sure that they're compatible...
ShellinNZ: Oh, I really am sorry for my typing!
SandraDodd: I remember being four and hating my baby sister and my mom along with it. STRONG emotions--abandonment and betrayal
CherylEtzel: I think I will start planning more playdates I can only imagine how painful it must be to *lose* mom to a sibling.
JessicaSexton: Me too Sandra - and being completely discounted. Told I didn't HATE my brother. I DID!
CherylEtzel: Hopfeully the siblings become closer to make that difference.
SandraDodd: I was always surprised that adding a kid to the group make it easier and not harder.
PamSoroosh: Cheryl - if you hire an older kid - maybe a 10 to 12 year old, one nice thing is that their mom is usually willing to bring them and pick them up in a couple of hours. So you have a specific time slot.
CherylEtzel: What's a good pay, though?
JennyC: it depends
CherylEtzel: I'd have to balance my work earnings - might be cheaper for me to just alter my daytrading if I'm not earning enough, kwim?
SandraDodd: $3
CherylEtzel: Oh, that's easy. Plus, I am getting better at it, so the potential to make more is getting better.
SandraDodd: Half of what a real babysitter would make while you're not there, when you are there (I think) and find a kid who's advantaged by getting out of her own house! Win/win
JennyC: without a parent there, it would be somewhere about $3 per child, with a cap for several kids
PamSoroosh: yeah - really little. Especially if you're paying a 10 year old to play with a 6 year old.
JennyC: $3 seems fair with a parent there that's nice change for going to the mini mart
SandraDodd: More if it's an older kid who has actual expenses in her life and could do more things with the kids.
If it's playmate/mother's helper, $3 seems okay.
katherand: Brian's home early and Karl has been wanting to go out for a while. The car's here! Wasn't expecting that.
socal77: Drew just came in the room...he needed me right now as his tv was working funny; I checked it out, determined that it was fine and he was satisfied, he said bye newb, and returned happily to what he was doing before....
SandraDodd: Will Brian take him or do you need to go?
CherylEtzel: So - options:
1) curb activities to have more time -she's still too young to be on own sometimes
2) schedule playtime
3) hire older kid
4) Or just have more playdates
PamSoroosh: LOL - you guys have no idea what babysitters get around here. A LOT. Cheryl lives near me, that's why it seems it might be too much to her. But, really, just for a couple of hours of a 10 yo being a "mother's helper," and having fun - ...not much
SandraDodd: Holly made $7.50 and hour for watching two kids at their house, last year or whenever.
JessicaSexton: In San Francisco $15/hour is bare
PamSoroosh: Sandra - no kidding. Rosie gets $20 per hour for two kids and a bonus added to that, usually.
CherylEtzel: with easier kids
oh I dislike that word "easier", we love all our playmates!
PamSoroosh: She doesn't ask that much - that is what people pay her.
JennyC: some parents are more grateful than others about decent sitters!
JessicaSexton: oops bare minimum. For one kid. Usually $20 though.
SandraDodd: Some people have more money, too
PamSoroosh: It is okay Cheryl - some kids are most definitely easier than others to have over as playmates.
katherand: Sandra.. Brian is tired from work and extra side jobs on others cars so he is fixing to nap.
SandraDodd: So I started to write something and maybe people responded and I missed it but unschoolers should plan to spend at least four or five hours a day with their kids and REALLY with them.
GabiNM (Guest88): The going rate is $10 per hr around here
SandraDodd:If they aim for that, they probably will get off easier, but if they aim for less they'll have needy kids.
CherylEtzel: Rosie is out of my range! Maybe once in a while, though... it's nice to know that someone like her is watching our kid - there's absolutely no fear, all contentment
PamSoroosh: LOL - she'd babysit Natalie for almost nothing, I think.
CherylEtzel: Awww...
PamSoroosh: 4 or 5 hours probably sounds like very little to some poeple who DO have very needy kids.
SandraDodd: It's rare to see a mom truly attend directly to her children for five hours.
PamSoroosh: It is rare. More like minutes.
CherylEtzel: 4 or 5 hours?
JennyC: it doesn't have to be all in a row!
SandraDodd: I see a lot of people being near kids and trying to see how much they can ignore them and still look like they're being attentive parents.
Being all distracted and "that's nice dear" doesn't count, and the kids know it.
strawlis: I think some need to here that concrete..."put on the list"... 5 more hours, of true one on one..it's a great tool
CherylEtzel: I missed what Pam meant by her orig statement, did someone mention 4-5 hrs previously
JennyC: I tend to do 1/2 hr and hour chunks of time
PamSoroosh: The interesting thing is that when 4 or 5 hours sounds "good" to a parent, it probably means they need to relax and "be" more with them.
SandraDodd: Some people think unschooling takes no time and no money If they're cheap with their resources of materials and time and attention, unschooling won't work.
strawlis: Yes, and that a shame
JessicaSexton: JennyC, how do your kids understand that you need a break periodically? (I forget how old they are, sorry!)
SandraDodd: And kids need/require attention from adults or older kids.
PamSoroosh: Sandra said unschoolers should aim to spend 4 or 5 hours a day with their kids, really with them.
ShellinNZ: I need to relax more, and spend mroe time with my kids...they don't need a gigantic chunk all at once...they get the giggles if I chase them for 10 minutes...and then they are busy with their own things for a spell so I can work on what I want to do
SandraDodd: If they were in school, the attention they got would be diluted and sometimes hectic and rough, but still.... six or seven hours.
PamSoroosh: If they don't spend that much, they will have needy kids.
JessicaSexton: (By break, I just mean things like peeing without company!)
SandraDodd: If parents think they can unschool and not spend that kind of time doing things for an with their kids, school would be better.
ShellinNZ: Wow- I don't think I even come close :0(
PamSoroosh: I said, some people will think 4 or 5 hours sounds like very little. They feel like they have very needy kids and spend almost every minute with them.
JennyC: yes, and kids that are needy will "feel" more time consuming
SandraDodd: I didn't get enough showers when my kids were babies and toddlers. Just the time for a shower seemed like a huge luxury
JennyC: Yes, it was
ShellinNZ: showers...me too...though now Tommy lieks to get in, and suddenyl it's easier :0)
mindyh: Yeah...it makes it seem a bit rediculous when I can't make the time to play a game, or sing a song, or read a book, or whatever because I've got some "job" to do. Hmm....I like that...black and white...4-5 hours
JessicaSexton: I feel like it is a lot easier when I have only one kiddo w/me, but it's tough to be really truly present w/both simultaneously (for now).
GabiNM (Guest88): Oh to get a shower today
ShellinNZ: it's not really that much with 16+ hours awake, lol
CherylEtzel: Natalie doesn't feel very needy to me. I mean, it doesn't seem that hard to get stuff done AND be with her.
SandraDodd: that's my statement for the purposes of this chat. I think it's a light estimate, but I don't want to scare people off.

JessicaSexton: Ooooh a shower. We don't even have one - I rush through quick baths, lol!
JennyC: I said something to my husband about it being my job to help Chamille navigate unpleasant people, even when I didn't want to.
CherylEtzel: Except when my stuff is feeling more pressing - like right now with the financial situation
JessicaSexton: What should have been, Sandra? The true time commitment?
CherylEtzel: Most of the time, it's the little stuff - like I hate being stopped halfway done with something because I have a hard time starting back with it when I return to it.
PamSoroosh: Cheryl - could you send her off to park day with someone and then have a really long block of time to do a lot of work?
SandraDodd: I made a graph.

JennyC: Well if you think about the actual waking time that you have, 4-5 hrs is a really small chunk of that
ShellinNZ: I sometimes feel like I am hanging washing alone, and my kids are in a differnt world...I prefer it when they are nattering to me, or passing pegs
JessicaSexton: I know the graph!!!
CherylEtzel: Maybe, if I can find someone to pick her up. Otherwise the trip there & back, twice, would feel like a big timewaster.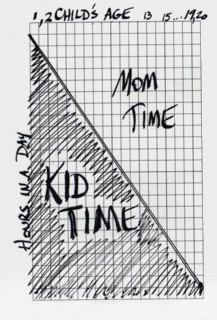 SandraDodd: sandradodd.com/howto
strawlis: I have that graph on my frig....I need the visual
CherylEtzel: There are a couple families that live close enough, though - if we could work it out...
ShellinNZ: Cheryl...it's none of my business...but do you *have* to work?
SandraDodd: Cheryl and everybody, stop . Don't post.
Shhh.

SandraDodd: Cheryl, how far is this trip to thepark?
CherylEtzel: About 25 minutes.
Maybe 20
SandraDodd: Wouldn't your daughter be in the car with you half of that time?
How could that be a time waster?
That would BE the time you were with her.
CherylEtzel: Ahh...I see...
OH my god.
Having a revelation.
SandraDodd:And the time she's not with you maybe you could spend listening to recordings from unschooling conferences.
JennyC: while getting work done
SandraDodd: Okay other people can noise-back-up. Thanks. I knew Cheryl was about to have a revelation. Go about your business here
CherylEtzel: lol!
RVB: I love revelations!
PamSoroosh: LOL -- also - Cheryl, you could work at the Starbucks right by the park.
Go work for 2 or 3 hours - go back to the park to hang out.
CherylEtzel: good god she's a witch
what starbucks?
PamSoroosh: 2 or 3 hours of totally uninterrupted work would be worth a lot to you, I think. There are three Starbucks within less than about 3 minutes from the park.
JennyC: it's worth way more that 4 or 5 of interupted work
CherylEtzel: I've actually dreamed of working at a coffee shop...mmmm coffee. I never have been to any of them near the prk because of the afternoons..
SandraDodd: Cheryl: sandradodd.com/truck
ShellinNZ: :0)
PamSoroosh: (Sorry to those not local - but maybe you're getting ideas?)
PamSoroosh: Okay - one last local thing.....
If you buy a Starbucks gift card and put some money on it - that you can then use to buy a cup of coffee for $2.00, you can have 2 hours per day of free wi-fi at any starbucks for 30 days. To renew, just buy another cup of coffee for $2 for 30 more days.
CherylEtzel: trying to skim throught he link - will wait and read it carefully
ShellinNZ: the graph is brilliant Sandra, absolutely brilliant
PamSoroosh: I wanted to bring up a different point about being with our kids.....
strawlis: Do you think that one hang-up is letting go of control? being caught acting childlike
CherylEtzel: OH, I thought you meant get a job at the starbucks. Still I'd like that... but working on my computer there makes more sense, of course. Daytrading occurs between 6:30am -1:30 p.
SandraDodd: that truck article is about the value of talking when you're side by side, like riding in a car
JennyC: oh no, you're way better off keeping your own hours!
PamSoroosh: I think if people do it halfheartedly then it isn't fun and satisfying. We hear people say, "But I don't LIKE to play Barbies."
Cheryl - again - think of solutions. People want to go to the park earlier - start getting people to go earlier - at 11 am. ."
Natalie can play with them while you work your two hours.
CherylEtzel: Pam, I've found that when I play games I like, I'm fully there
JennyC: I've learned how to like aspects of playing with Barbies. I'm not good with the pretend play, but I like dressing them and setting up their houses
SandraDodd: Shell, thank you (for the graph comment)
ShellinNZ: I've just sent the link to our local group :0)
RVB: Yes, JennyC. I could set up Playmobil scenes and dress American Girl dolls.
CherylEtzel: The side by side comment reminded me of Pam's saying, once, being next to people, vs across from them
PamSoroosh: It just seems like saying, "But I don't like to ..... whatever," is such a lame excuse for not being with kids.
JessicaSexton: Pam, I so agree. I cringe when I read the author of 'Playful Parenting' say that he dealt with his dislike of Barbie/whatever play by being really sarcastic about hating to do it...WHILE DOING IT! Seems really passive/aggressive...or just aggressive?
socal77: Pam and Cheryl, are you going to the park today? Sorry for the local sidebar ..;-)
CherylEtzel: I'll look into earlier parkdays
JennyC: well, it's not solution oreinted
CherylEtzel: I am, yes...
RVB: Maybe it's years of being forced to do things you don't like. Now you have the opportunity not to and you want it. ."
While whining, of course.
SandraDodd: Hey, Holly told me when she grew up she was going to always use a clothesline. ."
I said "prove it--use ours"
strawlis: Yes control..giving it up
ShellinNZ: I think some people want parenting to be easy- they want to be able to do what they like with a token "gift" of time for their chidlren...and when the childrne intrude on that, they get annoyed
SandraDodd: She said "But I like you doing my laundry!"'
Lissa: Hi, all.
CherylEtzel: I do force myself to do pretend play...and it's definitely not very satisfying, but it usually goes much longer than I intended because I try ver hard to get into it. With my backgorund, (as an actor) it's supposed to be easy y
PamSoroosh: My 18 yo, Rosie, is off getting a massage from her boyfriend's mother, at her business. He gave it to her as a valentine's day gift.
SandraDodd: (this all happened a minute ago)
PamSoroosh: I'm wondering what the mother and Rosie and talking about right now.
SandraDodd:and I said I had to use a clothesline when I was a kid so I don't want to now.
CherylEtzel: The more time I take to myself, the more selfish I get with my time.
JessicaSexton: (Hi Lissa)
SandraDodd: We were laughing about the realities and emotions about clotheslines!
CherylEtzel: So I have to find a way back.
JennyC: I like using clothes lines, but i can only use them in the summer
SandraDodd: So she wanted me to ask you all how people in places like Seattle would dry clothes if they had to
JessicaSexton: Cheryl, I feel that way somewhat too.
JennyC: and then during the rest of the year, everyone gets accustomed to soft clothes
RVB: We hang 'em inside.
SandraDodd: I said no, it would mess up the flow of the chat, but you're talking about the avoidance what "no choice"
PamSoroosh: I had clothesline envy - we had the regular 3 long straight ropes one - but the neighbors had a round one that turned.
JessicaSexton: Sandra - In Ireland, it's clotheshorses next to radiators
SandraDodd: I told her about the drying closets I saw in England
JennyC: or in big bathrooms if you have one
JessicaSexton: We have a drying closet too - it's called a 'hot press'
ShellinNZ: Pam- my brother used to swing out little brother round and round on our spinning one :0)
JennyC: i had a really nice clothes rack for a while but I had no place to put it in this house, so I gave it away
Lissa: I love how the comedian Craig Ferguson says that in Scotland, "damp" is a color.
JessicaSexton: Racks set up over the immersion heater (which has to be manually turned on 1/2 hour before you want any hot water in the house)
CherylEtzel: I wonder if there's some pendulum thing that occurrs when kids are babies to 6 or so. As babies we're there 24/7 no space. Toddlers as well. But somewhere around 4-5 (depending on kid) we get more space. Then the pendulum swings, so we're trying to ge get back, etc
SandraDodd: Thanks. She's looking at clotheshorses on google image.
JessicaSexton: After the chat I can send you a couple pix of our hot press & clotheshorse ..:-)
SandraDodd: cool!
Jessica's photos: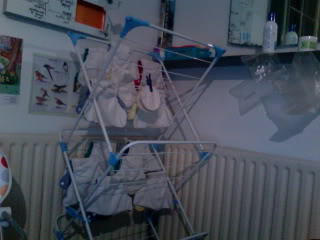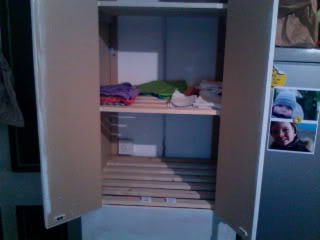 CherylEtzel: When I first started taking more space, it was like I was really hungry, lol - that "lack" thing, maybe.
SandraDodd: Okay, back to being with kids.. sorry
(I was being with Holly, but it was kinda disruptive of the chat maybe)
Holly loves Craig Ferguson.

JessicaSexton: I feel hungry all the time. That's the problem too. I feel just as hungry for me as Michael does.
strawlis: Unschooling,,,IRL ..:-)
JessicaSexton: OK, just had my own minor revelation!
SandraDodd: Tell it, Jessica!
JessicaSexton: Now how do I live with it? LOL!
SandraDodd: Find ways to do things that "feed" you both. It's part of being partners.
CherylEtzel: being side by side....?
JessicaSexton: That's what I'm seeking. Absolutely.
GabiNM (Guest88): I loove cooking with my kids, mess and all
SandraDodd: When people talk about "compromising" it sounds like two people not doing what they want to do, but it's easier to find something mutually interesting
GabiNM (Guest88): when they wander off because their attention is done, I wish they were still there with their messiness
JennyC: Margaux and I have our nancy drew games!
JessicaSexton: He wants me doing his thing with him, not my thing next to him. I am still looking for that 'together' thing. Even things we both like, he does so differently that it's really hard not to get annoyed (embarassing but true).
SandraDodd: Do you have examples?
JennyC: it's engaging for both of us and we do it for hours, easily
SandraDodd: Maybe we could find ideas.
Have you looked through some of the music/art/history/strewing pages for ideas? Maybe the two of you could explore some new things so that it's neither yours nor his.
JennyC: what about things like riding bikes
SandraDodd: Some new "ours"
Lissa: I have interests I wanted to pursue and found that each of them appealed to some of my children, and have turned into good connections for different assortments of us. Gardening, sewing/quilting, drawing.
JessicaSexton: I think I will dig for new ideas.
JennyC: or playing video games that are multi player
GabiNM (Guest88): Gardening is a good one for all ages
SandraDodd: We've already dug some up.

sandradodd.com/art

strawlis: I spent hours yesterday playing in the mud with the girls

JessicaSexton: Thank you!

JennyC: or going to walks to the the mini mart, and getting yummy treats

SandraDodd: that history page has a link to a museum in the UK somewhere that has put up videos of antique toys in action. That's cool.
And it doesn't take an investment of time at all.

Lissa: Oh yeah, treats! We once got on a Mentos kick and drove all over town looking for new flavors.

SandraDodd: You could look at one or ten of them.

Lissa: Found the coolest flavors at the Japanese grocery store.

JennyC: children's museum are good for engaging parents and kids

SandraDodd: And maybe make videos of some of your own toys that way.

JessicaSexton: I tend to want to delve into things and he is more of the 'catch a glimpse and move on to the next thing' type.

GabiNM (Guest88): We were watching videos of horses running on Youtube the other day

JessicaSexton: LOVE youtube!

SandraDodd: I'm planning to videotape my mom's music box. I've never heard the tune anywhere else and when I've played it for people nobody's ever named it. Technology is catching up with my curiosity

Lissa: Animaniacs clips on YouTube. And Electric Company.

strawlis: Invest time in their play..it fills their need tank

Lissa: Ooh, Sandra, how intriguing! I bet you'll finally find out!
I did do that, and though some responses were not good, someone did identify it. The video, musical transcription and such are at SandraDodd.com/musicbox
JennyC: I'd be willing to bet that if my dad heard your music box, he'd know what it was
JessicaSexton: I've been looking for 3-2-1 Contact
SandraDodd: Sometimes the "Being" is not nearly so physical as it is being with them emotionally.
socal77: Drew likes the shamwow song, keeps us laughing everytime
JessicaSexton: my baby waking upstairs too - but I will try to be right back. leaving window open.
strawlis: Yes, back to the side by side, listening, hearing
SandraDodd: Be joyful about their discoveries, and sorrowful about their unhappiness even if your first thought is cynical or dismissive.
It's part of respect for the child, to consider that if he's unhappy it's the real unhappiness of a human, not "just kid stuff"
RVB: Yes.
SandraDodd: Being his dependable, compassionate partner is not what our culture wants you to do.
Really, if ONE mom is saying yes, it makes the rest of them look bad.

Lissa: Right, you're supposed to teach them to suck it up. ..:-(
SandraDodd: If one mom lets her kids come home from school, the other kids might expect it
So once we're already bucking the traditions, might as well go all the way and do it really well!

RVB: This is part of our World of Warcraft experience together. Sometimes it makes Michelle so happy she could burst.
Other times, she's very sad. I could dismiss it as "only a game" but it's not to her. It's part of her real life and her real learning.
JennyC: and some parents like to point out how terrible that "yes" is and try to prove dire consequences and fear of consequences that will likely result from that
SandraDodd: Maybe we need a slogan, a jingle. Something about if you're going to go against the flow, don't do a half-assed job of it.

If you're getting out of the mainstream get ALL the way out.
RVB: I don't just swim against the current. I step right out of it, onto land.
SandraDodd: I'm not jingle minded at the moment, but some people seem content with "different" even if different isn't sufficient to have a different outcome
JennyC: our school motto in highschool, was "go with the flow and rise with the tide". I came home and told my dad, and he said "any dead fish will rise with the tide and go with the flow"
mindful really says a lot
socal77: I got distracted, I had to go listen to the shamwow song ...funny everytime
SandraDodd: Jenny, your dad was a smart guy.
JennyC: he still is
even if I disagree with him
not about that quote, but other things
SandraDodd: We had a California Highway Patrol officer tell us to "go with the flow" when Keith was passing cars coming out of San Francisco going east at 6:30 a.m. "Go with the flow" was our official warning.
strawlis: I've been accused of 'Living for my children" ...it always makes me smile...yes...I'm happly sharing my life with them. and feel so privileged to have been chosen.....I wouldn't have it any other way
CherylEtzel: I'm absorbing a lot right now. also, was thinking about your 1/2 way thing. one foot in the box, one foot out... the more I'm half way, the less ability I have to think creatively. Not sure why.
strawlis: So jump in
JennyC: because you aren't focused on one direction
CherylEtzel: straddling a box isn't exactly comfy
maybe it's restricting free flow
RVB: Takes practice to be out of the box.
JennyC: you're still living 2 different directions
CherylEtzel: I was really really really struck by that conversation on AL when the gal couldn't see options for the kid with cleft palate
I read her post and thought, gee she's stuck
JennyC: sometimes when people are in the middle of their crisis, they can't think or see things clearly
CherylEtzel: but I wasn't IN her crisis & still got stuck. all the sudden the options were flowing. Creativity of thought was so easy for everyone, but for
Lissa: Up above, people were talking about solutions, looking for solutions. When my big girls were little I would always say, Don't cling to the problem--look for the solution.
And the 3yo started saying, "Wook for da tawooshun!" So now we look for "tawooshuns" around here.
CherylEtzel: I guess the solution is looking for ways to free up creativity
JessicaSexton: I have a fun deck of cards called the 'Creative Whack Pack"
RVB: I think parents of kids with challenges get told what to do by a lot of people with "authority." It makes it harder to think past that, when authority might be respected instead of one's own gut feelings.
JennyC: right, but you have to know which direction you're going
CherylEtzel: So finding ways to step outside the box more often - not straddling - can free up creativity
strawlis: tools, help, find ones that work for you...Sandra's site has hundreds
JessicaSexton: When you're stuck on something you can pull a card for a "whack" to your thought patterns

SandraDodd: And sometimes the solution is to forget about the larger problem and be physically comforting to your child right then, that moment, and smile and sit in a rocking chair or something.
Enough sweet little moments like that, and "the big problems" don't seem so big.

RVB: Helps the parent, too.

CherylEtzel: stepping outside the box - yes, being with the child is the easiest thing that comes to mind when it's a situation that feels really *serious*

JennyC: yes, it diminishes crisis mode, to sit and really BE with your child

CherylEtzel: comforting, playing, etc

JessicaSexton: Rocking really really helps my guy

SandraDodd: Yes. When you touch them gently, you're experiencing gentle touch yourself.
Rocking helps ME
One regret in my life has been not living where porch swings are.

RVB: Mine is in storage. No room. Wah.

SandraDodd: Thank you all for being here. I'll save it up and edit it down to a few good parts.

The same week as this chat on being with children, there was a topic on the Always Learning list called Balance. Caren/dharmamama1 wrote wonderful responses to the comments in boldface below, and I thought anyone interested in the topic above could use these thoughts too:
I realize she didn't really need help but just wanted my attention. Between my other obligations and my personal feelings at the moment I just wasn't able to give it to her. I did spend some time with her it just wasn't as long as she wanted.

The word "just" here popped out to me, as if you were dismissing the need for attention. Your attention is YOU. By your attention, you are giving yourself to your daughter, which is what she needs to thrive. I had some old thinking to get rid of in this area, as well—my Mom's generation was taught that it's harmful to pick up a crying child, and "too much attention" is a very bad thing to give your baby (or child). It didn't take me very long after my oldest's birth to realize those beliefs were b.s. - but it took me a longer to implement the new belief in my actions. "Oh! I have to give *of myself*?" Scary, in some ways—but OK!

I've come to realize that my kids need ME, not just in the same room, not just nearby, but by my attention and interaction—my full self.

I specifically designed my business so I could be with my children. I feel like they have benefited from me doing this even though it means I can't always give them the time and attention they want.

It's not want, it's NEED. And, you've stated clearly you're not *with* your children. You're occupying the same space, but YOU - your attention, your energy - are not with them. You spend time each morning and evening and at naptime - but if you are not available when your child needs you (as determined by your child, not you) - you're creating mistrust.

I believe you believe you're doing the best you can, but awareness that you're making these choices is very powerful.

Caren