2018 addition:
I've added a link to a recipe for chocolate bread. Twice I made that, and made chocolate bread pudding with it. So... notes below. 🙂
Bread Pudding
The recipe I use for bread pudding is from The New Good Housekeeping Cookbook, only it's not at all new anymore. It's from 1986, so 22 years old. The page is scanned (click below to see full size; it's called Bread and Butter Pudding, lower left), and the other two photos are of puddings while they're hot in the oven, and then when they cool.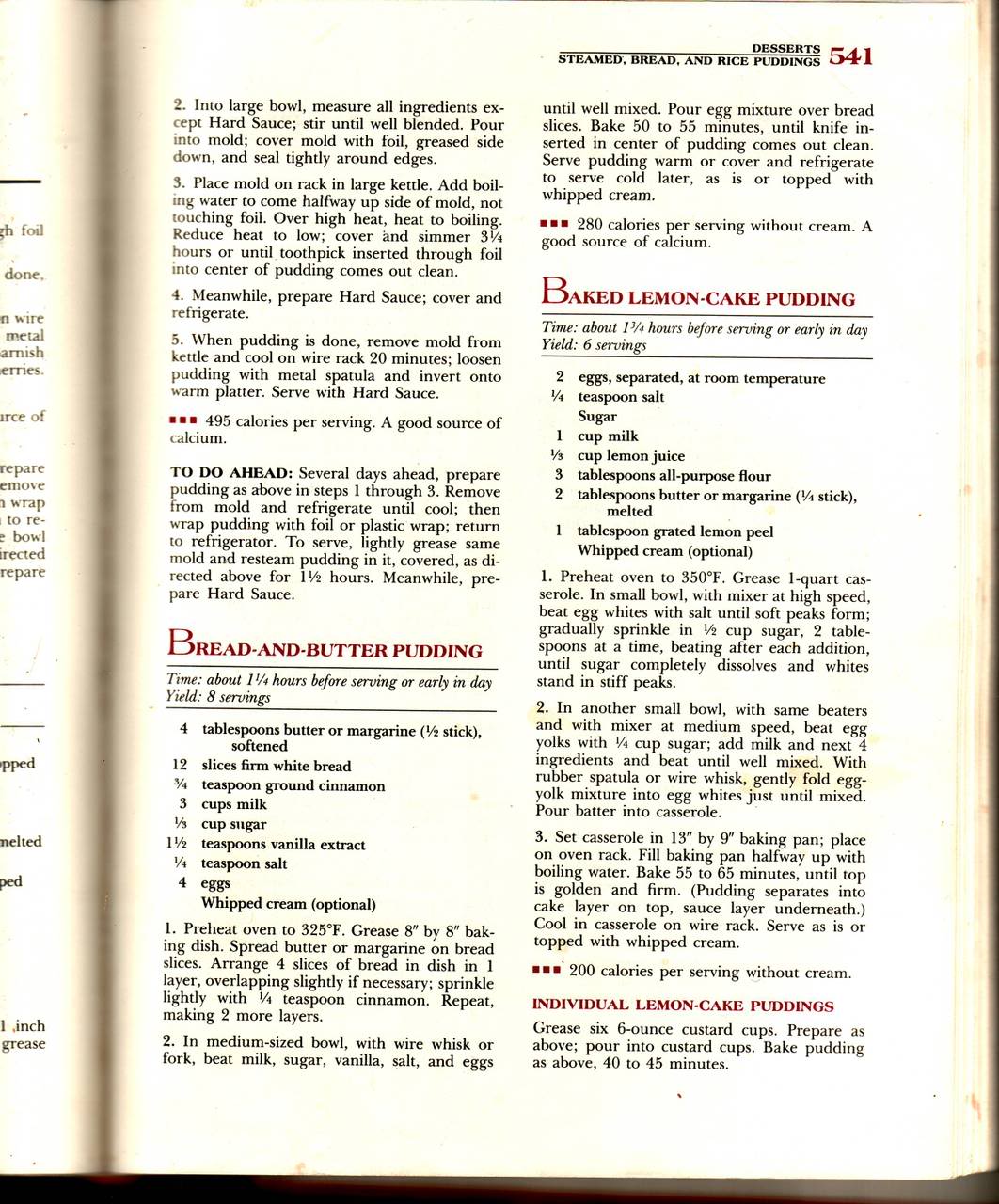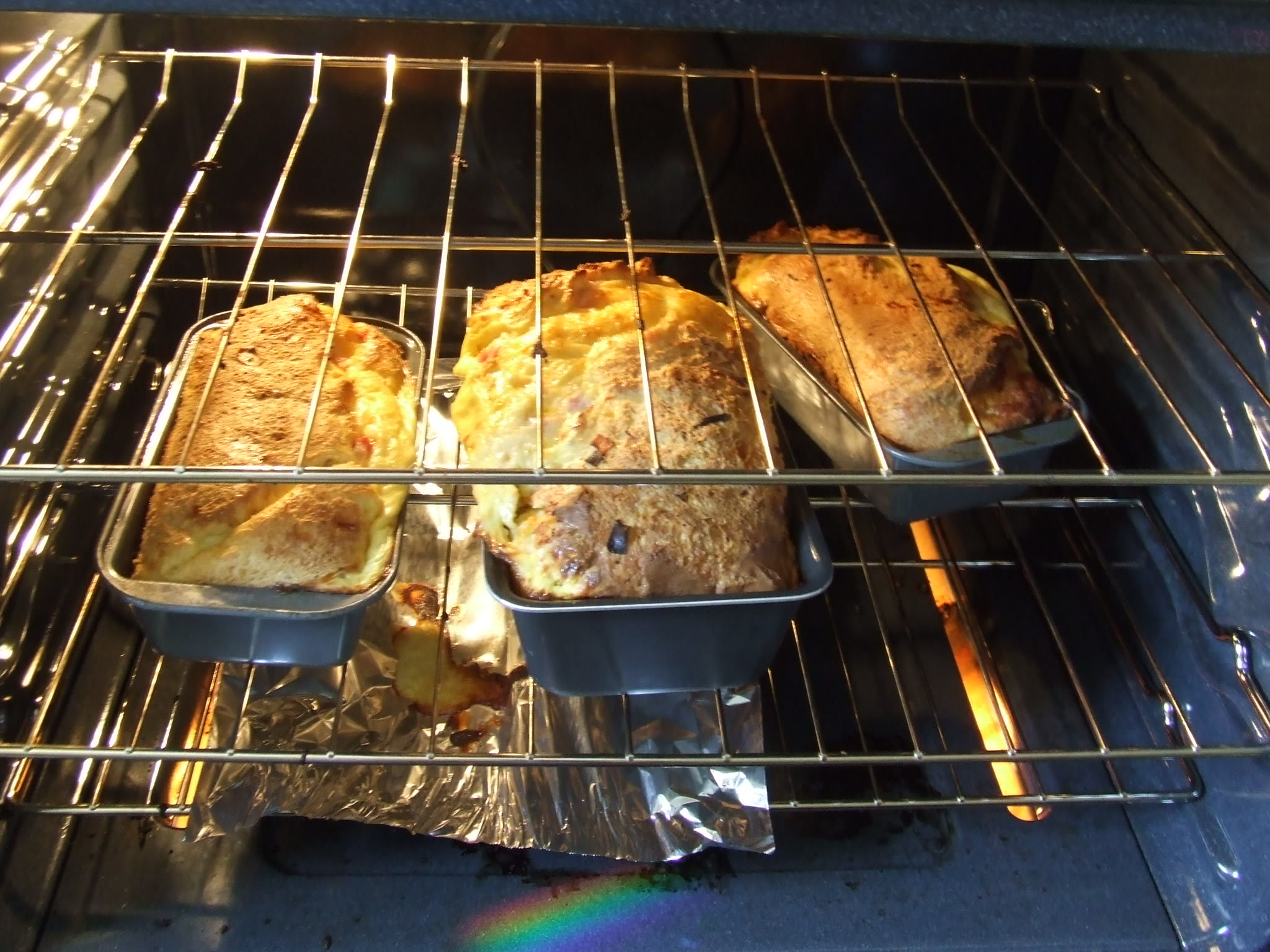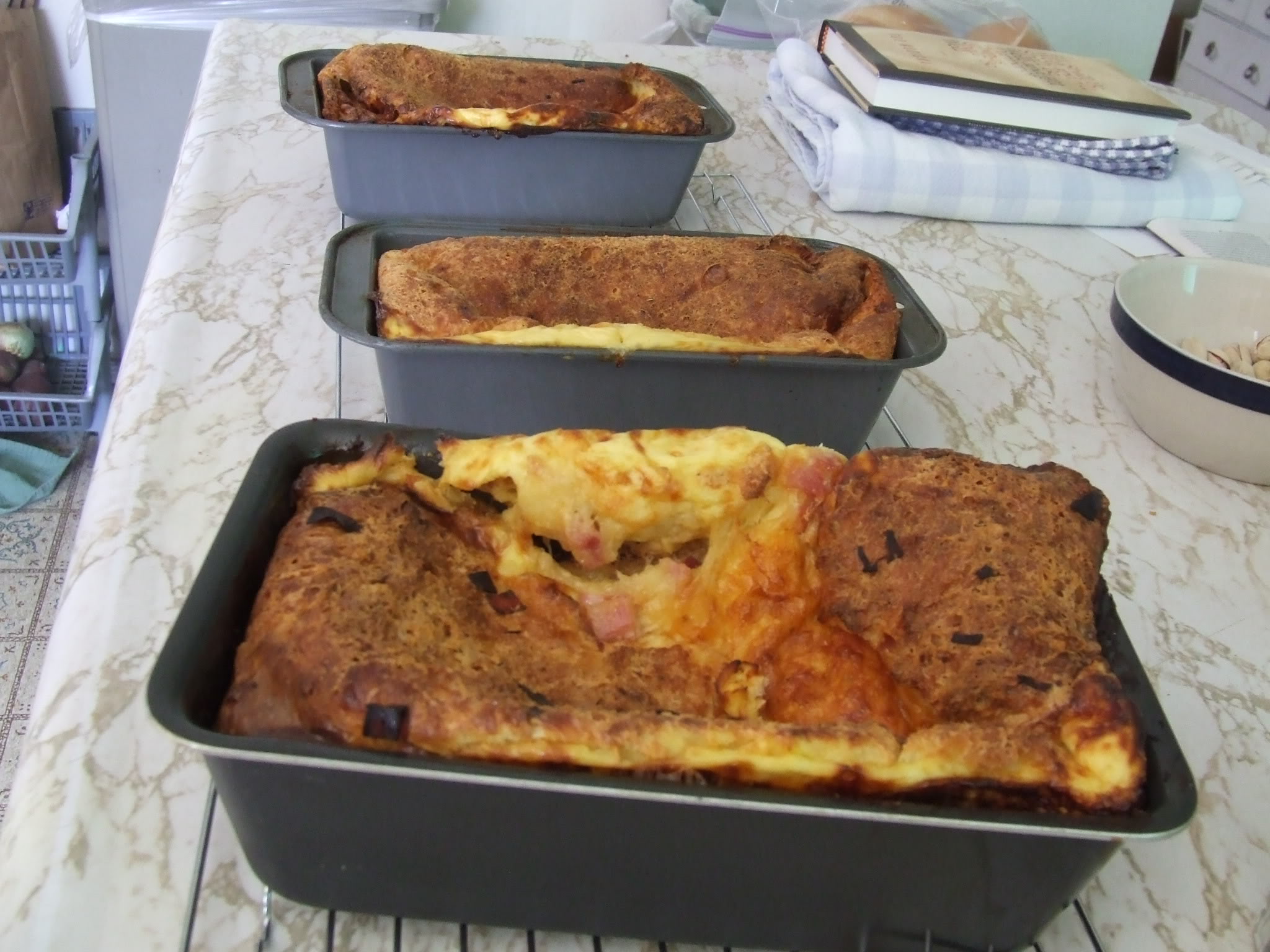 Click and look if you want to. I just didn't want you to think you'd made a mistake because they deflate. It's okay.
Once I was making this recipe and there were lots of little kids in the room, and I had always put raisins in before. I reached for the raisins, held the bag to pour, so that only half a cupful would come out. I poured, looked, and I had poured in chocolate chips instead of raisins. At first I was miffed, but it was WONDERFUL!!!
I like to use a bundt cake pan. You can turn it out like a jello mold. Don't expect it to look like jello. But you can fill up the middle with whipped cream if you want to be fancy. Not when it's hot, but when it's cool.
This bread pudding is good warm, and cold, and long-refrigerated.
Start early in the day, a few hours before you need it at least. This is not a quick recipe.
4 tablespoons butter (I just melt a stick of butter, but I don't use it all)

12 slices firm white bread (dry, old bread works best because it absorbs the milk & eggs, but as to "12 slices," it's probably too much, and old hot dog buns and hamburger buns, or leftover homemade bread will work, as long as it's sweet bread or plain. Not onion or rye, unless you want to leave the chocolate chips out and put in ham or green chile. Then also leave out most or all of the sugar. Oh! And leave out the vanilla and put in some dry mustard, salt and pepper. Breakfast bread pudding! (or dinner...)

¼ teaspoon ground cinnamon, the original said, but I don't use any.

3 cups milk (some of this can be half and half or cream, and if you use extra that's fine)

⅓ cup sugar

1 ½ teaspoons vanilla extract

¼ teaspoon salt

4 eggs

1/2 cup or so of chocolate chips
Heat oven to 325 F. Use a fair-sized casserole or a deep bundt pan or a deep crock. They said 8x8 baking dish, but that will make a mess.

I put non-stick spray. Then put a layer of bread (brush butter on it if you want to, or not if you don't. Overlap if necessary. Sprinkle a handful of chocolate chips. Make another layer of buttered bread. The rest of the chocolate chips, then. They're not likely to fall to the bottom, and you don't want any on the very top or they'll burn.

Then more bread, probably butter the top even if you didn't below.

In a big bowl (why do they say "medium" when you're going to beat eggs and milk!?) whisk or beat milk, sugar, vanilla, salt and eggs. You can use a mixer if you want, but don't froth it up. You're going for custard here.

Bake 50 to 55 minutes (longer, in my experience), until knife inserted in center of pudding comes out clean. Not sanitary, just not all eggy-looking. Pull it out, watch it fall (yes, it's sad, but you can make another one and photograph it while it's all poofed up), let it cool, eat it!

Variations: Raisins instead of chocolate; other kinds of baking chips; other dried fruit (cranberries?) or fresh (blueberries would probably be wonderful).

Notes by Sandra Dodd
Chocolate chocolate bread pudding
In 2012, Kelly Lovejoy asked on facebook, for a recipe, I gave her this, and some discussion ensued. I think you could use any chocolate bread recipe, but the one I used is linked below. And the best trick was this: Make the bread in the pan you're going to make the bread pudding in. Then slice it horizontally, so it fits beautifully and perfectly back in there.

Kelly:
Sandra, I have looked EVERYwhere. I thought I had your chocolate bread pudding recipe stored somewhere, but I can't find it. My dad made bread pudding for my birthday last night, and I told Duncan that I had your recipe for a chocolate-chocolate-chocolate bread pudding. Help?
Caren Knox:
It seems like when I read the recipe on an unschooling list (2002? 2003?) you had used chocolate bread, which I had never heard of. A day or two later, I was in a Fresh Market grocery store and saw... chocolate bread! It's possible I saw the chocolate bread and thought, "That would be good in Sandra's chocolate bread pudding!" and you had just used regular bread in yours. I'm glad there's a link! I remember asking you for the recipe a while ago. So yummy!
Kelly Dunlap Lovejoy:
Yeah---it had CHOCOLATE bread to start---so it was REALLY chocolatey. So this with chocolate bread?
Sandra Dodd:
You're both right; I had forgotten that! Twice I made it with chocolate bread, made from a recipe in the old DAK bread machine cookbook. My cookbook had a spill, and then fell apart, and I only saved my five favorite recipes, but many of those recipes are online. Here:

Bread Machine Chocolate Bread


I did love that DAK bread machine from the 1980's. It looked like R2D2.

The fancy thing I did was to make the bread in the same round pot (one of those old heavy aluminum things smaller at the bottom than the top, with the nearly-fleur-de-lis sort of handles) that I made the pudding in. So after the bread was cool, I sliced it horizontally and just used those big pieces as the layers.

What I did NOT do, and I hope you will do, was to dry those out some,because I was impatient. Maybe at least put them in a low oven for a while to get them dry enough to soak up some custardy goodness.
I left some comments out; the discussion might still be there if you click this.
---
NOTE FROM SANDRA, 2019:
If you want to make chocolate bread, it might be better to only use the bread machine to get the dough past the first rise, and then take it out, knead it again, put it into pans yourself and bake it, and maybe use the same pan you'll do the bread pudding in later. Eat a couple of slices, and keep the rest for bread pudding another day. 🙂

REAL CHOCOLATE BREAD (DAK BREADMASTER RECIPE)

Categories : Chocolate Desserts Breadmaker

Amount Measure Ingredient -- Preparation Method
-------- ------------ --------------------------------
1 pk Yeast
3 c Flour, bread
1/2 c Sugar
1/4 c Unsweeted cocoa
1 Egg, unbeaten
1/4 c Soft butter or margarine
1/2 ts Vanilla
1 c Milk, warm

Real Chocolate Bread

Add all the ingredients in the order given, select white bread, and push start. DAK/Breadmaker Recipes
---
2020, Donut-Hole Pudding
Tasted good, but not recommended, as it looks like a mountain-oyster casserole, or something.

Other than using chocolate glazed "donut holes" from the grocery store, it's the bread pudding recipe up above. They popped up, though, like toad-in-the-hole, and it just wasn't as pretty as when using bread.
---
2020, also—CROISSANTS!

If you come to have leftover croissants, they make The BEST bread pudding. I've used chocolate chips, and Dutch sprinkles, and leftover broken-up chocolate bars (not all at the same time—whatever I had at the time).

Leftover crossants are rare, but Costco sells a flat of them. We use four or six the first day, and then I hope others will sit long enough for bread pudding. 🙂 Slice them open and use them inside-up. Chocolate chips or sprinkles will land in the holes and stay. Don't butter them; they're buttery enough, and the chocolate is, too.
---
Breakfast Bread Pudding

Other recipes on my site, and food-related this'n'that