Request for Donations

The longest, whiniest version
Please help me with expenses.
When I asked in 2017, I said I might wait until 2020 to ask again, and I would have, but a couple of things happened. (Also, what was I thinking!?)
Sites and online services cost me about $600 a year. Last year it was a $300 more, too much, for photo storage, but that price has gone down again. (Temporarily some sort of muttery... muttery extortion, but I paid it because Just Add Light's photos are in there... then the company came to its senses, or got threatened or sued or something, and their pricing all changed, so now it's $120 and not $400. Crazed robbers. But one of mine came due during that window of robbertunity.) Gradually, I'm uploading photos directly to my site or to the blogs, instead of linking to them from Photobucket, as it's more stable. Ideally, if I moved everything, I could let the photobucket accounts go, but realistically, I'll never find everything on thousands of web pages, and thousands of blog posts. It's a bit rickety backstage, but it's working.
Last time I asked there were a bunch of fancy numbers, but adding two years to those, just makes a jumble.
The only fancy number I have now is that as of the beginning of February 2019,
Just Add Light and Stir has over 3,000 posts!
There are three posts I've archived for being about something immediate or timely; they're not good anymore.
There are about 125 repeats, but only the greatest stuff, and sometimes with a different photo, or title, or link.
Recently my laptop (my portal to all of you) has begun to show signs of advanced age and overloadedness. I have sound files it can't upload. It doesn't always find images easily. I need to replace it with something that will fit everything it has now, and that has some empty warehouse space.
I've worn the keyboard out, and three TPU Silicone keyboad covers. Now some of the keys aren't working right ("t" and "n") and it slows me way down.
Working alone by myself isn't too bad usually, but I don't have people to hang out with, to go to lunch with, to notice when I've done well, or I'm sick. I don't know why I'm still interested in keeping my site up and helping unschoolers, but I am. I WANT to do it, and I'm doing it, but it would be nice if I didn't also have to pay for it all, too.
People have said I could make money doing one-on-one consultations, but I really, deeply don't want to do that. Some of my reasons are here (SandraDodd.com/oneonone), but there are others. It would exhaust me to invest in individuals who weren't figuring it out with the resources already provided, and what I learned from their stories of what works or doesn't, I would be expected to keep secret. I would rather learn in public from lots of people, and share it back out the same way. Because I won't do that hourly-wage work, I need to beg.

So please give me maybe what you would've given for a session, or to take me to lunch (I'm a cheap date—I very rarely drink alcohol), or even a greeting card, now that postage has gone up and greeting cards' prices have, too. I'll pile those greeting-cards'-worths and imaginary lunch receipts up and get part of a new MacBook.
Thank you!
---
P.S. I know I should sing and dance about how valuable I have been to you and your family, but if you didn't know that, you wouldn't have read this far. Thanks for considering assisting me.
Shorter request without emotional appeals

---

Really short for those who didn't want any details
There is a similar button, if you click these trees.
People don't notice it there, in the middle, at the bottom.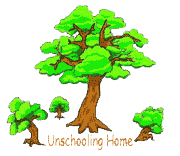 For those who prefer paper, a check could be sent to me at
Sandra Dodd
2905 Tahiti Court NE
Albuquerque NM 87112
Thanks!