Kirby at Dion's
2005, Kirby was 18


Plus Additions: a formal brag on Austin R. at Olive Garden, and a link to a tale of Marty at the Jr. Police Academy when he was 14)


Actually the story starts at Raley's, one day earlier this summer. We had relatives visiting and they hadn't seen the boys yet. We were going to go where Marty works, at the grocery store near our house, because he hadn't come home when we expected him to, and then to go to lunch where Kirby works, at Dion's Pizza. When we got to the store, one of the checkers said "Marty's gone to lunch with Dan and Valerie."

Oh!

He usually walks home for his half-hour lunch. Dan and Valerie are his boss and his supervisor.

Kinda cool to be surprised that way when we had visitors.

We went on to Dion's, and sat to wait for Kirby to get off his shift. He slid into the booth with a piece of paper, and here's a copy: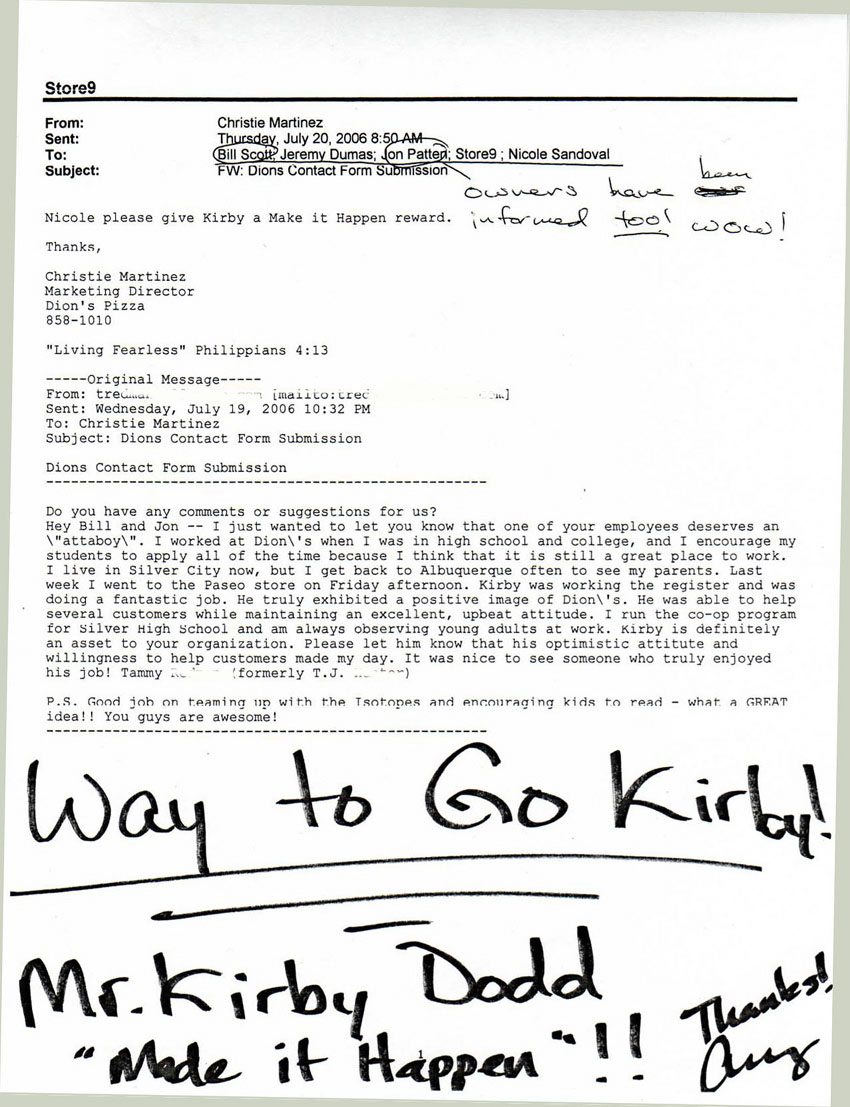 I carried it across to Office Max to make a copy for Grandma, and one for me and one for Kirby. Then he took the original back to to the bulletin board from which he'd borrowed it, in the office.
I couldn't have arranged a more impressive half hour for relatives whose next stop was my mother-in-law's house.

When he got home, Marty told us they had taken him out for a steak dinner for being the store's champion in the "Bag Olympics."
---
Years later, similarly, a review of service by Austin, reported by his mom, Leah Rose.

So Austin is slightly mortified that I'm posting this (fyi to all our mutual friends), but what's a mom to do? The maternal thrill cannot be denied. This review was forwarded to him by the restaurant management:

---


more Kirby Marty bragged up at 14 more on teens