Holly's special Christmas gift
Holly had asked for a certain doll, not knowing it could only be obtained in Ireland (as far as Schuyler and I could discover), and they couldn't even ship to England. (Thanks again, Schuyler for your time and effort to find this.) Not long after that, Jessica Sexton posted to the AlwaysLearning list, and mentioned that she had recently moved to Dublin.
I'm very grateful that her family helped get the doll and get it here (mailed to my friend Jeff who was being my safety deposit guy for Christmas anyway), and it was a total surprise for Holly.
Jessica sent photos so Holly could see where the doll had been before. I had made a Santa slideshow just in case the doll didn't arrive. The post office couldn't guarantee Christmas delivery. It arrived December 23, though.
These are the same photos as the slide show:

Our Street

Towards our house

No. 10 Kenilworth Road

Michael on the steps

Baby Wee Wee

Baby Wee Wee in action

"And if you tickle him..."

Michael meets Baby WW

Filling the tank

Priming the pump

Anticipation

Michael shows Theo
how it's done

Rathmines post office

The box waits its turn

Off to Holly!
These images are very sweet. I had offered to let the host family play with the doll, because I figured they might be curious, and these videos are wonderful.
Here's the advertisement Holly saw in the first place.



December 25, 2008: Click to see (fuzzy) photos of Christmas morning, opening the package.
(close with "x" in upper right)
This new not-yet-named guy Dezmond joins Holly's babydoll collection. Holly does dolls.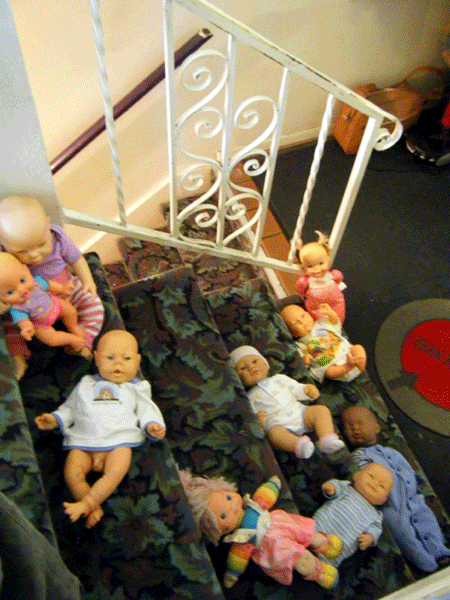 Desmond going to a costume party