I wasn't scientific that year. I forgot. Since then others have made goathead pages, though, and those are below.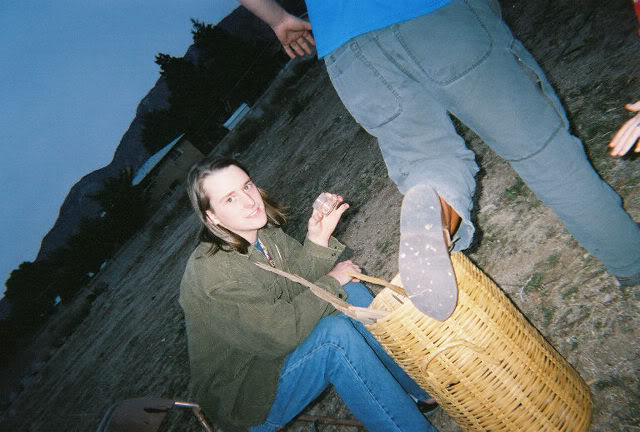 Cameron Lovejoy visited a couple of winters back, and we wanted to show him goatheads. The plants were all brown, but that's when the stickers get ready to travel, when they're all dried up.
I had never once before that tried to gather goatheads, but I knew just what to do. Some of us put on flip-flips even though it was cold and we walked out into the vacant lot behind our house. We took a chair and a little jar. The photo shows a basket, too. We gathered wood while we were out there. Wood scrounging is a part of our household economy, and it's community service to clean up vacant lots, right? Maybe.
So we should've taken two chairs and maybe some tweezers, or extra shoes and just take off the stickery shoes and carry the back to the house, to the light. But as I say, it was my first harvesting attempt. Kirby and I wore flip-flops, but what shows in the photo is the bottom of Marty's boot. It was flat rubber, and that photo shows he's picked up eighteen or twenty. Our shoes were softer and did less damage to the stickers. (How weird to be writing about trying to gather them without damaging them.)
Sorry about the woozy angle. That's the back corner of our house, behind Cameron. For those who know Albuquerque, Sandia Bowl would be off to the right, and Juan Tabo Blvd. was behind us.