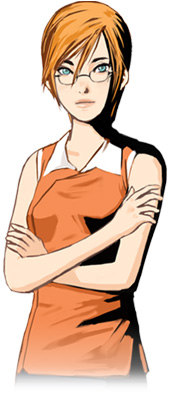 Video Games with Female Leads
(in no particular order, not a perfect list, and with comments below):
June 2006, Kristin Ehmen reports a female lead in Trace Memory, "a Nintendo dual screen game. Geared for pre-teens, it is an interesting mystery with no real violence or foul language. Loaded with thinking skills puzzles, this one is A++"

"rslater" sent this (thank you!):

Legend of Dragoon for Playstation had major female roles, Rated Teen

Also Sword Of Mana for Playstation/Gameboy Advance has a major female character.

Metroid: Zero Mission
This February, Samus Aran will return to her roots and relive the story that started it all -- revealing for the first time full details of her meeting with the Metroids.


Metroid games are listed below, too.
Carmen Sandiego
Starcraft (one of the expansion sets has a female foil)
Marty says some of these are for teens, meaning not good for little kids:


Parasite Eve (2)
Tomb Raider (lots of them)
Resident Evil (4 or 5)
Eternal Darkness
Final Fantasy III
Kudelka
Perfect Dark
Not for teens necessarily:


Procky and Rocky
Lost Kingdoms
Metroid
Super Metroid
Rhapsody
Soul Calibur (yes, it's spelled that way )
Threads of Fate

For kids, for Playstation:



Britney's Dance Beat
Barbie Explorer



Jonathan Ward says that many of the sword-fighting games have an option to have a female lead. Many role playing games have females that are important to the story and action, not peripheral characters.

I was just reading your site and thought I would offer a few more games that have female characters. Final Fantasy IX has at least three females (there is a possible fourth but the gender of the character is in dispute) You can play it with an all male cast, after a certain point in the game, but your team would lack critical skills that are found only in the female characters. Also, most fighting games, such as Mortal Combat have at least one female character and they are usually pretty good. In the fighting game I used to play, I could take on any of the guys with the girl character. In addition, computer games such as Diablo offer female lead characters, that are just as good or better than the males. I plowed my way to two levels above hell before I had my son and gave up most game playing.

Carrie Garner



"I noticed many parents were bothered by the lack of positive female roles in games. Any role playing game I've ever seen always has female characters to choose from. Others include the Might and Magic series by 3DO, The Gabriel Knight Series switches from male to female roles with both being strong, the game my children and husband play is over the internet via The Zone by MSN the game is Asheron's Call, also Dungeons and Dragons games all have female characters as well. Roll playing games are played by a variety of age groups (children through adults), and many gaming stores have in-store gaming for kids 10 and up (or so) where they can play in person the non computer version of Dungeons and Dragons. The non computer original style is very deeply rooted in skills such as reading, math skills, comprehension, socialization, communication, all sorts of skills used in real life where kids (and adults) can apply them in ways that make sense to them at this time in their lives."


Shawnna, in California





back to main videogames page
Other games

Additions or refutations should be sent to [email protected]