Walker of the Way, Ælflæd of Duckford
Artan II and Tara, May 6, 1989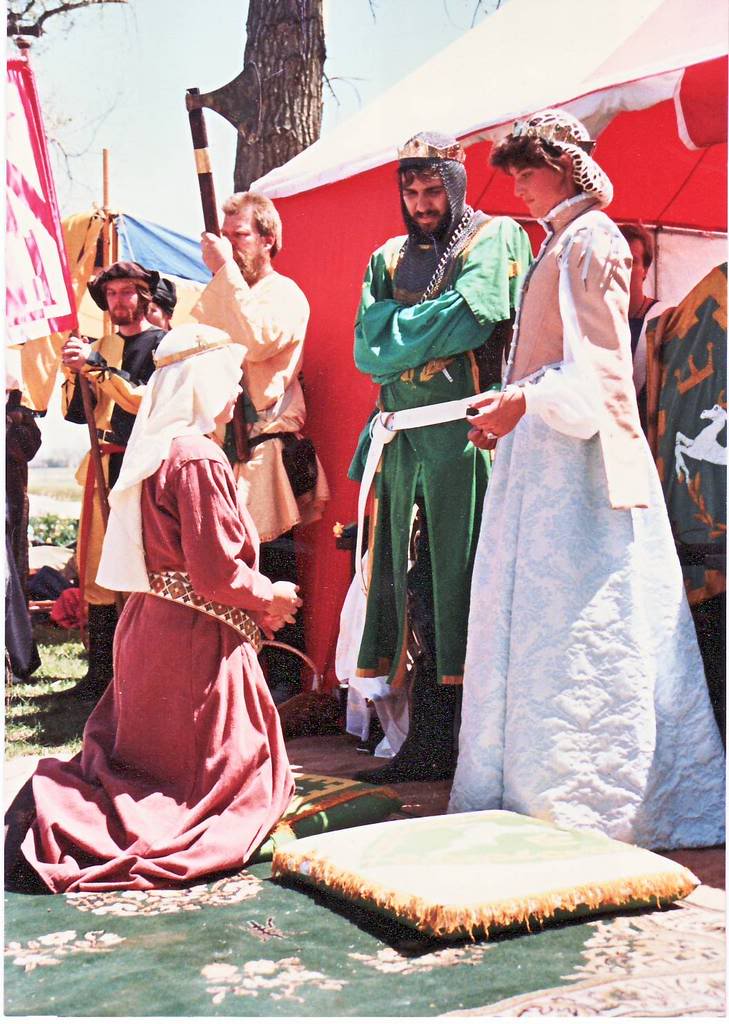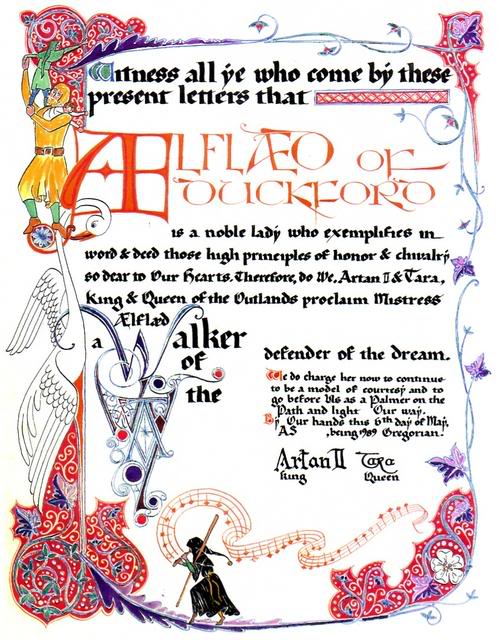 The scroll is by Mistress Rodema de Rohan, who was entirely inactive in those times, but Artan knew I would love to have a scroll by her, and so arranged that as a special gift.

In the upper left corner Gunwaldt is depicted, holding Magnus up, with the new baby who had been born just a few months earlier. The new baby was named Jeffery Paul in those days, but later chose the name "Bardolf." He is, as I write this, nearly 18 years old and Artan's squire.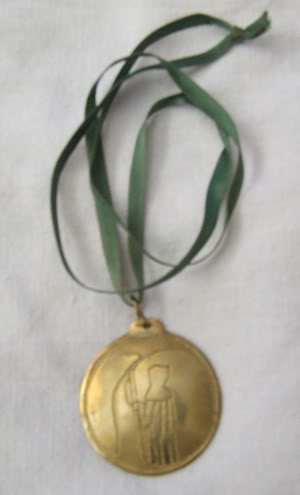 The walker is playing recorder. The music is the tune to "Come Follow," which I had taught Rodema and others the first year I joined. The notation goes this far in the lyrics:
Come follow, follow, follow, follow, follow, follow me.
Whither shall I follow, follow, follow,
Whither shall I follow, follow thee?
To the greenwood...
What's sweetest about it is that Walkers of the Way are charged to lead others "as a Palmer on the Path," a reference to the arms of Sir Ton the Traveller. Ton was one of Rodema's earliest SCA buddies, when they were in college in Arizona, and they co-founded Tir Ysgithr. Later, Rodema moved to al-Barran and married Raymond the Quiet, the second Walker of the Way. Ton joined the air force and was stationed in Dragonsspine. So they both ended up in the Outlands, and both affecting my life for the better. Ton was King of Atenveldt and signed the warrant when I was made Seneschal of the Outlands.


Another touching and humbling thing is that both Rodema, the artist, and Gunwaldt who is pictured, were Walkers of the Way. Artan, who was so kind and thoughtful about it all, was later made a Walker of the Way too.

The original scroll is too large for my scanner. This is scanned from a reduced color photocopy made when it was new. Someday I hope to do a direct scan so you can see more details.

If I had to give all my awards up but one, this is the one I would keep.
---
Awards in order of bestowal * Awards in precedence order


Ælflæd of Duckford