Found materials turned to art

"Spirit Fuel"
Brie Jontry and Michael Masterson created this title for my Spirituality page in September 2012:

Brie wrote:
We were going through our storage unit and found this box of treasures. It's nearly every stick, dried leaf, stone and other assorted bits that our daughter gave to us to save during walks when she was around 4-5 years old. Michael had been keeping them for her. Picking through the suitcase, she remembered where she found many of them. What a gift.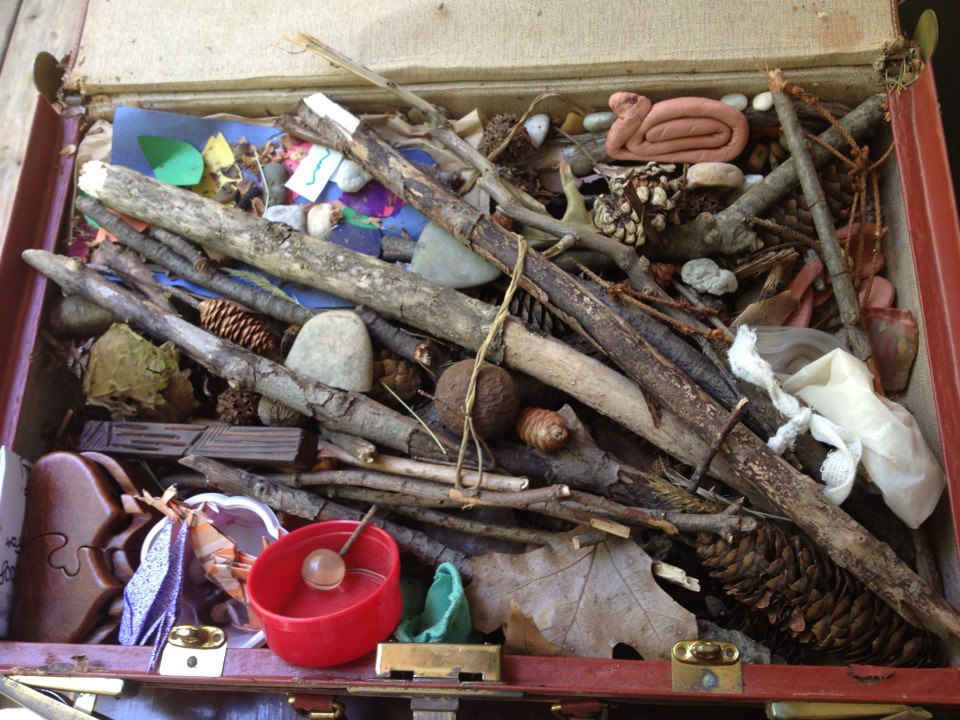 (Michael entitled the e-mail in which these were sent "spirit fuel.")
---
I've been a lurker, listener and hopefully learner on your site for a while now but have never wanted to write before. However, the Spirituality link you sent was so beautiful and close to perfect for me that I wanted to just say thank you for making me aware of it and warming my heart on a rain filled day here in the UK.

My daughters have all collected and we too have stored for as long as they wanted. My 9 year old still gathers (particularly feathers) and we try to display them around our home. Most everyone I know thinks us slightly crazy or too indulgent. Most everyone I know says "no" to collecting or carrying or will throw the treasures away behind their children's backs. What is worse for me is that the children of most everyone I know now think it is stupid or babyish to collect treasures and value them beyond tearing them up and chucking them around. My children feel a little lost amongst this. I feel very lost amongst it. We have tried to find some new similar friends but it isn't easy. And then you posted this link and I felt less on the outside. So thank you from my heart for this and for all the other messages and links you and your dear group of families take the trouble to post. They do make a difference - sometimes profound - but always in making those other people like me feel that we aren't quite as alone as we may otherwise feel.

Clare Johnson
September 2012
---
Brie Jontry

Spirituality in light of unschooling

Just Add Light and Stir