Hannah's Quilt
Holly used a photo of the quilt square I made for Hannah's quilt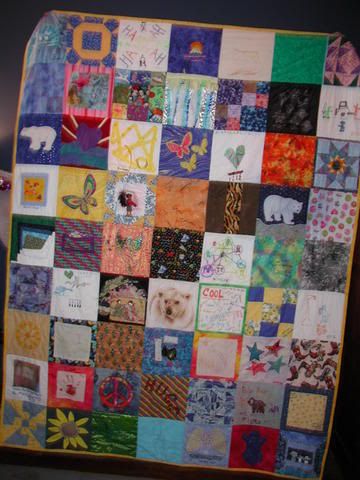 which was started while Hannah was in the hospital, and finished after. . .
Hannah Lea Jenner left this life peacefully, in her mother's arms, early on February 24, 2006. She was 9.5 years old and had a smile on her face, as she so often did. Chemotherapy had just begun for her recently diagnosed Acute Lymphoblastic Leukemia, but the infection too quickly claimed her body. Hannah was a life long learner for whom all experiences came with joy and love. Survivors, grateful for having loved her, are her mother, Diana (Lambert) Jenner; her brother, Hayden Jenner; her grandparents, aunts, uncles, cousins, and countless friends-who-should-be-family. She is embraced on the other side by her father, Mitch Jenner, and others who have gone before her. In lieu of flowers, the family requests outpourings of love and tender regard to every child, and gratitude on the part of parents of living children everywhere.
Hannah's mom has a blog: hannahbearski.blogspot.com called "Boddhicitta, the awakening heart"