Korean Drama notes

I first watched a Korean drama in February, 2015.
I had first heard of them in May 2014, at Alex Polikowsky's house (or before then, from Alex, but she showed me a scene from Faith, and fed me Korean food she had made).

Anniversary notes:
February 8, 2015, a Sunday, I started watching faith. All day Monday, I watched that show. Keith brought me food. I finished it Tuesday, February 10.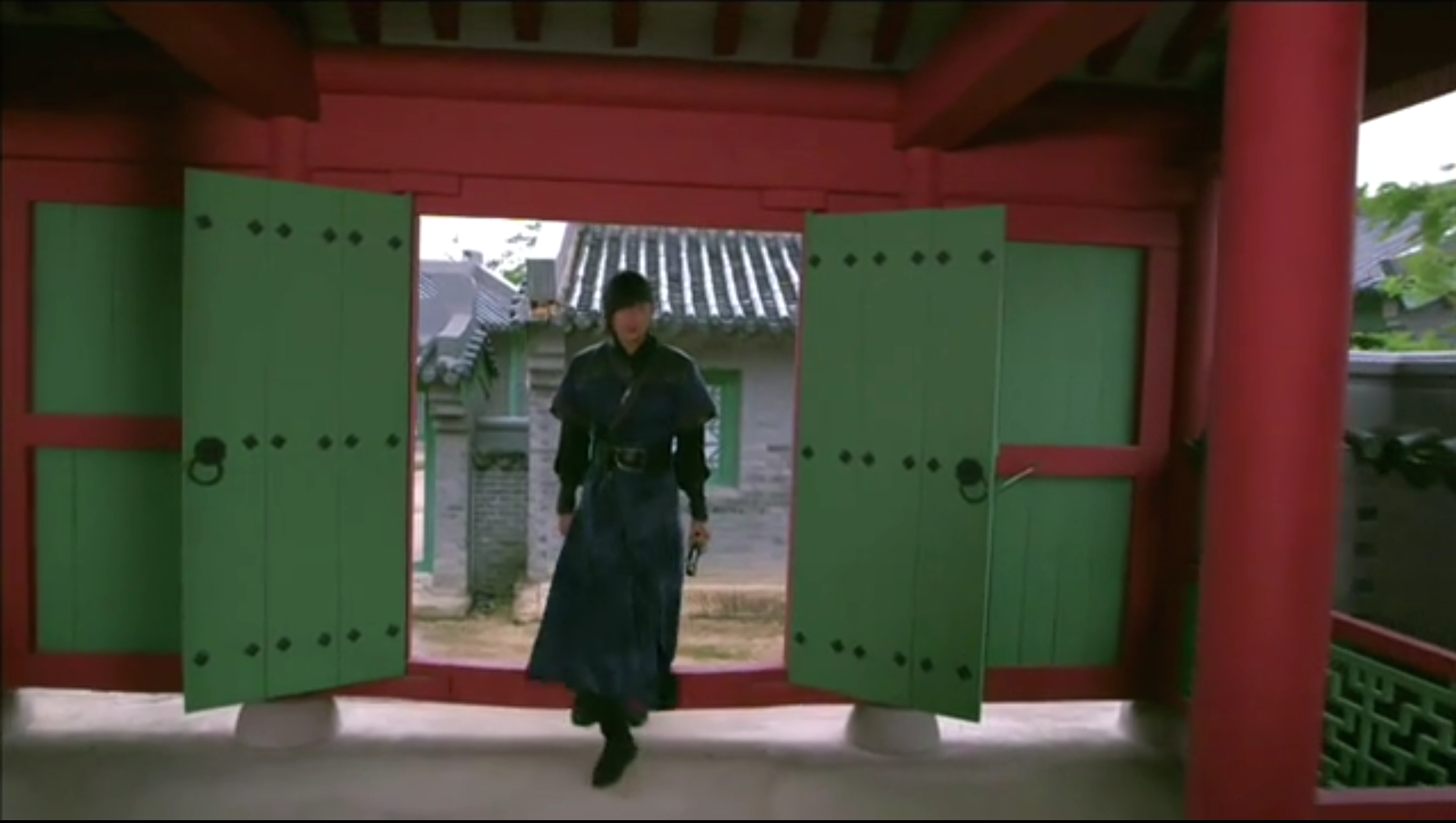 Notes about similarities in Faith and Healer (both by the same writer, Song Ji-na)
DON'T GO THERE if you haven't watched both shows, because there will be spoilers,
but what I wrote about Faith and Healer (linked at left) are safe and spoiler-free.
---
Links are to my own writings elsewhere.
Shows I have finished watching:
Faith (finished 2/10/15, written by Song Ji-Na)
The Moon Embracing the Sun (finished on or before 2/25/15)
City Hunter (3/11/15)
Healer (finished somewhere around mid March? written by Song Ji-Na)
The King's Face (3/22/15)
Sandglass (4/3/15, written by Song Ji-Na; older, darker)
Shine or Go Crazy (4/8/15? or 4/7—watching while it was new; not planning that again)
Warrior Baek Dong Soo (4/10/15)
The Legend (on dramanet, 4/17/15)
Kill Me, Heal Me (4/21/15)
Misaeng (on Viki; not smooth, finished 4/26/15)
Boys over Flowers (5/1/15 #12)
Tree With Deep Roots (5/10/15)
Secret Garden (finished 5/16/15)
Fated to Love You (finished 5/19/15)
Rooftop Prince (finished 5/23/15)
Shut Up, Flower Boy Band (5/27/15)
Emergency Couple (finished 5/31/15)
Coffee Prince (6/4/15)
The Master's Sun (6/8/15)
watched Healer (for the third time) and then Warrior Baek Dong Soo (second time) 6/8-6/22
Nine: Nine Time Travels (6/25/15)
My Love from Another Star (6/29/15-started it over right away to catch some end-of-episode bits)
Greatest Love (started 7/2; finished 7/5)
It's Okay That's Love (7/10 #24) [don't know what I was watching between 7/10 and 7/13.. tried some of Empress Ki]
Chuno / The Slave Hunters (7/13-7/26, watched most of Healer and some of Faith partway through)
Orange Marmalade (7/26-7/28 early a.m.) 12 episodes, good
Late Night Restaurant [it's still airing, but I've watched the first six, eight thirteen half-hour stories]
Personal Taste (7/30 - 8/2/15) [went to Chama for a few days]
One Sunny Day (8/8/15, 2.5 hours or less altogether)
watched Faith again while I was sick with pneumonia and some Late Night Restaurant
re-watched Personal Taste, but didn't take notes; sick
Oh My Ghostess (8/26/15)
re-watched City Hunter (finished 9/4/15, liked it better 2nd time, but don't *love*)
Heirs (9/8/15)
Secret Garden (second time, finished 9/20/15)
My Love Eun Dong (9/24/15)
My Love from Another Star (all the way through to the epilog, finished 10/8/15
Twenty Again (10/20/15)
Kill Me, Heal Me (second time, finished 10/25/15)
Bachelor's Vegetable Store (10/28/15)
Arang and the Magistrate (11/3/15)
Healer (fourth viewing, 11/9/15)
She was Pretty (11/14/15 #36—in these third-dozen days, I re-watched several))
The Story of a Man, a.k.a. The Slingshot, or A Man's Story (12/5/15—written by Song Ji-Na)
The King of Dramas (12/13/15)
What's Up? (12/19/15—written by Song Ji-Na)
Tamra, the Island (12/27/15)
Oh My Venus [in progress—started it before it was completed and had to wait, 1/8/15]
Angry Mom (1/7/15)
Splash Splash Love (1/7/8, it only has two episodes)
finished Oh My Venus (1/8)
Personal Taste (third time through, 1/18/16)
KARA: Secret Love (1/21/16, five separate stories, two hours each)
Grandpas over Flowers Investigation Team (2/1/16)
Answer Me 1988 / Reply 1988 (2/17/16)
I Have a Lover (2/17/16-3/12/16; 50 episodes, busy month)
Fool's Love / Ho Gu's Love (3/17/16)
Rooftop Prince (second time, 3/21/16)
The Merchant: Gaekju 2015 (41 episodes, don't watch it again, 4/12/16)
Page Turner (4/12/16, good, three episodes)
Healer (4/18/16, fifth time through—still catching subtleties)
It's Okay, That's Love (second time through, 4/29/16 A note, if you have seen it; avoid otherwise )
Snow Lotus Flower / Lucid Dream (5/1/16, two episodes long; nice!)
Faith again. It just gets better, and I added a couple of similarities to Healer than I hadn't seen before. (5/9/16)
Secret Garden (third time, 5/16)
Descendents of the Sun (5/21)
Moorim School (5/27/16)
Secretly Greatly (to watch one of the leads of Moorim School; 4th viewing)
Dramaworld (5/30/16)

Notes on things to
CONSIDER WATCHING
Save Me, about a cult

Mirror of the Witch
Chief Kim

Zo In Sung was also pretty sexy in That Winter, The Wind Blows. (Alex says)

Mary Lewis says "The Sound of Your Heart is funny."

Riders: Catch Tomorrow (to see Choi Min who played the secretary in Cinderella and Four Knights)

"Loved [Jun Ji Hyun] in My Sassy Girl especially. " (Mark Choy)

If you haven't watched it and are in the mood for a high school drama with lots of music I highly recommend the drama Dream High (Marcella Chester)

From Dramabeans ten-to-hook-your-friends article, those I haven't watched:

My Name Is Kim Sam-soon (2005)
Sungkyunkwan Scandal (2010)
Nice Guy (2012)
I Hear Your Voice (2013)

'Candle in the Tomb' has history, archeology, and some spooky fun. (Chinese; recommended by Gail)

(and I lined through what I've watched from the list)

Handwritten list and I don't know why:

That Winter, the wind that blows
Hello, Monster / I Remember You
You're Beatiful (already watched)
Two Weeks

---

Jen Fernandez wrote:

Cinderella and the Four Knights - ...Loved all the male characters and the lead female is cute.

Shopping King Louis -...super sweet and the classic tropes were not really there in the usual way. One of the male leads is Oska from Secret Garden.

Cheese in the Trap - This was very different for me. Rather darker then I usually go for. That's all I'll say. I'd love to discuss it more if anyone else watched it.

Hello My Twenties (aka Age of Youth)- ... it is interesting to see certain social issues through Koreans eyes.

"You're Beautiful has church in it because Go Mi-nyeo is planning to be a nun."—Mary Lewis

"Uncontrollably Fond (Lightly Ardently)... usually-evil elf-like Im Ju Whan from Oh My Ghostess and Shine or Go Crazy playing a so-far cute bushy-banged bespectacled young second lead..."—Genie Maples

Also Genie Maples recommendations:

Beautiful Mind (Jang Hyuk)

My Beautiful Gong Shim - Very enjoyable, funny, tons of cute. Some tropes, but you can see an attempt to rein them in. Adorable male lead. Adorable female lead. Sunbeam-smiley second male lead.

Same for Lucky Romance - Totally adorable male lead - one of the most endearing dorkiest characters ever and a great performance.

"Viki now has Queen In Hyeon's Man, which is often cited in people's tops lists and is a time travel romance story." —Stephanie Currier

My Girl (2005-06)
You're Beautiful (2009)
Full House (2007)
Playful Kiss (2010)
Fantastic (watched but I didn't mark when)
Doctor Crush

Answer Me 1994 (6/10/16)
Thank You (6/14/16)
Answer Me 1997 (6/26/16)
Healer again, better than ever (sixth time, 7/10/16)
Noble, My Love (20 15-minute shows, 7/11/16)
Signal (took forever, wasn't done when I left for England, last 90 mins I got by recap, 9/13/16)

break in service, went to England for 6.5 weeks

Secret Garden, episode 6 on, in England, between things, as it's one of the only ones available there

9/27/16, back from England, but then to a conference in Arizona,
so... still, break...

Moonlight Drawn by Clouds (10/22/16)
Fantasic (11/5/16)
You're Beautiful (11/14/16)
The K-2 (11/17/16)
Uncontrollably Fond / Secretly Ardently (11/22/16)
Beautiful Mind (11/29/16)
Beautiful Gong Shim (12/5/16)
Scarlet Heart: Ryeo (12/15/16)
Healer (12/7/16 Seventh viewing)
Full House (1/6/17; long build-up, nice end, but some irritation and some humor in the middle)
W (1/11/17—liked it lots, but needed to pause and recover and think sometimes)
Pinocchio (1/17/17, lots of favorite actors, picks up in episodes 9 / 10 and zooms)
Shopping King Louis (1/22/17)
Goblin (1/29/17)
Legend of the Blue Sea (2/4/17)
Cinderella and Four Knights (2/8/17) [#75, finished on my second anniversary of watching shows]
___________ Year Three

Secret / Secret Love (2/13/17) others have similar names; I watched this one
Weightlifting Fairy Kim Bok-Joo (2/17/17)
It's Okay, That's Love
(2/22/17, third time)
My Girlfriend is a Nine-Tailed Fox (2/27/17) the film director is the best character
Big (2/..? 30?/17) Too frustrating; don't watch again.
That Winter the Wind that Blows (3/7/17)
Coffee Prince (3/14/17, second time)
Voice (2017) (finished 3/27/17, but in the middle watched the next-listed one)
The Sound of Your Heart (on Netflix, not very long, fun and funny) (3/21/17)
Riders—Catch Tomorrow (4/5/17)
[Maybe I watched one in here and maybe I didn't; Keith was hurt, and I got distracted)
Mirror of the Witch (5/3/17)
Because it's the First Time (5/8/17)
Love in Trouble (Suspicious Partner) (in progress—started while it was airing)
Faith, all the way through (with interruptions twice for new episodes of Suspicious Partner), officially my 5th viewing (all the way through, I guess) and I still found two similarities to Healer I hadn't seen before. (6/3/17)
Chicago typewriter (6/24/17 — eh... half good. Slow.)
Two Weeks [7/11/17 (private group, but I'll be able to see this link later)]
Suspicious Partner, started watching while it was still airing... (7/15/17, finished)
Defendant (7/21/17 same lead as Kill Me, Heal Me)
Strong Woman Do Bong Soon (8/3/17)
The Best Hit (8/15/17)
My Sassy Girl (8/27/17, Sageuk with anachronisms, not time travel, but modern references)
I Am (8/27/17, short, android story)
Fated to Love You (2nd time, 9/10/17, Viki)
W (second time, 9/10/17)
Man to Man (9/26/17 on Netflix)
Good Doctor (10/3/17)
Save Me (10/8/17)
Yong Pal (10/11/17)
Queen In Hyun's Man (10/17/17)
I Remember You (Hello Monster) (10/20/17)
The Master's Son (2nd time, 10/27/17)
Healer (8th time, 11/3/17)
end of dramas
---
Movies:
Gangnam Blues (watched as soon as it came on DramaFever; too rough, didn't like)
Secretly Greatly (6/29/15, watched to see the lead from My Love from Another Star, Kim Soo-Hyun. It's a bit rough, but very good)

watched again in early December, after "The Slingshot" to see one of the actors—Park Ki-Woong, who played the nerdy stock-market whiz.
Watched again to see Lee Hyun-Woo, who was one of two male leads in Moorim School.

A Werewolf Boy (August 2015; insubstantial and too sad)
Castaway on the Moon (didn't save the date, didn't like it)
A Man and a Woman (watched on the plane on the way back from England 9/26/16, wrote this)
"The Technicians," (a.k.a. Con Men), 11/20/16. It's good. Light. Heist, relationships, sneaking, printing, art, acting. Actor from Secretly Greatly and Moorim School in it.
Windstruck (11/30/16, with Jang Hyuk and Jun Ji-hyun, 2004) This has Jang Hyuk as an Arlo-Guthrie hippie, and a knight in armor, in fantasy scenes.
The Beauty Inside (2/9/17) worth watching again! Joyce recommended it; it's on Netflix.
This page was supposed to be a place for me to count how many shows I had watched, but there's a problem. I'm listing re-watchings. :-) And some things are movies, not dramas. And Late Night Restaurant is a bunch of short stories, not one long one. One Sunny Day is an odd very-short drama and shouldn't count. So it's a record of what order I've watched things in, I guess.
As of late August, 2015 over two dozen dramas and two movies.
End of December, 2015, I had finished 40 (nearly 41), and three movies.
Counted again February 8, 2017 (second anniversary), 75 dramas and seven movies.