I asked my daughter for an idea for Just Add Light, and she said "water."

Holly has played in small water and large, and suggested I recommend water play for its soothing effects, and for being one of the least expensive materials for exploration and entertainment. Bowls, pans and measuring cups. Water in sand or dirt. Showers and bathtubs. Wading pools. Ice makes a good floating toy. Ice cubes, or ice frozen into a mold, a pan, or a plastic bag will not need to be cleaned up or put away later. Ice in a wading pool. Ice in a sand box. Ice in a toy dump truck.

There was a time when Holly took two or three baths a day, just to be in the water, playing with a wash cloth, a colander, a funnel and some cups. She would listen to music and sing.

When our kids were very young, we would put a thick towel on the patio, set out shallow pans of water, little cups and bowls, and let the baby pour and splash.

For older kids and adults, a float or a swim, if possible, or some new soap and a long shower can make a difference in mood and moment.

Letting water run over your hands, feeling the smooth, gentle flow can move you toward peace.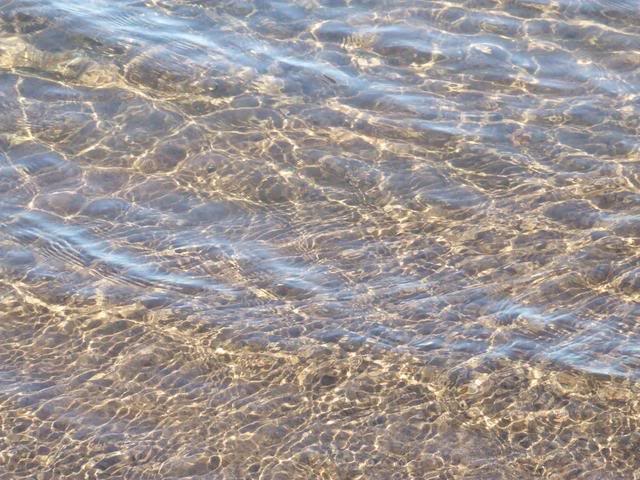 ---
Sweeter Water
Water handed to you nicely is a lot nicer than water slammed at you and sloshed.

It's got to be better for you, because you can drink it calmly and sweetly, without trying to choke it down when you feel like you're going to cry.

Be gentle.
SandraDodd.com/eating/peace
(The quote about water is from
Partnerships and Teams in the Family.)
photo by Sandra Dodd
---
Sand and Water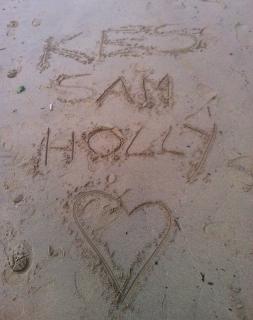 Play with sand and water. Find seeds. Sit in the shade, and in the sun. Set ice in the shade and in the sun. Write with ice on a sunny sidewalk.
SandraDodd.com/substance
photo by Janine Davies
---
Dance around; save the world
by Deb Lewis, once upon a time:
I wrote once before about how dish washing has come to be my mental health moment.
I light a candle, I make some tea or pour a glass of wine, turn on some music, take off my shoes, and do just the dishes I want to do. I use dish soap that smells great—LOVE that hot water...sigh. I never start out feeling like I *have to* do *all* the dishes. I think how I want to have clean dishes and do however many I feel like doing. I dance around a little. I plan my garden. I save the world. It's never just about doing dishes.
—Deb Lewis
SandraDodd.com/chores/unfair
mostly-unrelated photo by Deb Lewis
---
Water Play
Remember these moments, when simple things make the normal world magical.

Provide for the possibility of these moments.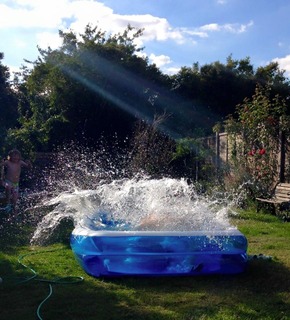 "Sam Splash" photo by Janine Davies
---
Karen James wrote:
I was crouched by the water's edge, watching him, watching the water, and listening to something that caught my interest. With every stone Ethan threw into the flow, the pitch of the creek changed. It was like he and the creek were composing a song together.... more here
---
Sandra Dodd, in "Rejecting a Pre-Packaged Life":

Any tiny moment can be enjoyed: the feel of warm running water when you wash your hands... SandraDodd.com/joy
---
From an anonymous poem:

"You cannot grasp water in your hand ..."
---
My 1998 essay "Moving a Puddle" is much about water, and flow.
"So Kirby said he would empty [the squirt gun[ out the [car] window, which he proceeded to do, squirting it on his hand and discussing how much colder it was to have a wet hand in the wind than dry...." all the rest
---
Amanda wrote (and sent photos):

My youngest LOVES sensory things. Water, bubbles, more water, flour, more water, sand, have I mentioned water?

The other day I walked into this...
---
Jenny Cyphers, on finding abundance:

I can go into my pantry and see what I DO have. I can see that I have rice and milk, or running water and dishes and soap to clean them. Parents can be a buffer for their kids for monetary lack, they really can. SandraDodd.com/abundance/
---
Melissa, in "Night Swims":

The soft glow through the water was enough to light their faces, and they were happy to be out and playing games with dad and mom. We floated in the noodle chairs and watched lightning bugs. We counted stars and adopted some as our own. We all gathered around Avari in her baby floatie and laughed as she splashed her way around to try and get the floating glow sticks. More and more, all peaceful
---
Canadians singing about water (Lenny Graf, in a song that was on Radio AAHS in the 1990s)

From Animaniacs. (It was on a CD, so there might not have been video; someone put images to it, though.)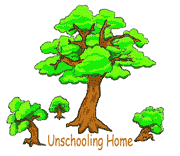 The title was generated for free at this site: cooltext.com