The masculine term is "anchorite," but there seem to have been more females than males. Some were nuns, but not all. Some wrote, some had many visitors, some were more quietly contemplative. Though some were said to be walled in, most examples seem to have had a door with an outside bolt, and some reported leaving for certain special occasions. I've collected some interesting points from various sources, and some images.
---

Note in April 2022: I came to modernize the page and found most of the links and images gone. Sorry. It's too much work to stabilize it. I'll leave text and some stabilized links (wayback machine, or my site).

---

From an article on Annora, the anchoress of Iffley (no longer available to link):
These women were known as anchoresses - not as the medievals supposed because they were anchored to a church, but because of a Greek word, anachorein, meaning "to go apart". In the twelfth to the thirteenth century there were 92 anchoresses in England (and only 20 anchorites).
Because there were anchoresses in many different conditions and many situations were new or unique to that parish, time or place, the generalizations don't apply to all, and even a set of rules will be specific to one archdioceses or one situation. For example, here is a link to an excerpt from a 13th century booklet written by one priest for three anchoresses, who were siblings. I have heard it quoted as though it applied to all anchoresses everywere, but it was quite limited and particular.
---
Juliana of Norwich in the late 14th, early 15th century, wrote "Sixteen Revelations of Divine Love." There are many online biographies of Dame Julian, as she is sometimes called.

Julian/Juliana was in communication with other mystics in England and on the continent, and she was a counsellor to people who came for that purpose. She had three windows to her room—one to the church so she could see the sacristry and receive communion; one to another room through which food and such would be passed; one to the outside, where visitors came to speak with her.

This page has a photo of the door to her room, as it appears now, anyway. One source says she had three rooms and two servants when she was older. (Maybe always...)
He said not Thou shalt not be tempested, thou shalt not be travailed, thou shalt not be distressed; but He said, Thou shalt not be overcome. —Julian of Norwich
A 2005 book on anchoresses, Lives of the Anchoresses: The Rise of the Urban Recluse in Medieval Europe, says:
Anna Benvenuti Papi inventoried the many recluses in Florence and Tuscany who lived as in a grave, Velut in sepulchro, and Gabriella Zarri did groundbreaking research into a group of living saints and recluses, Sante Vive, who were held in high esteem at the humanist courts of Italy. These women, Zarri maintains, combined mystical ecstasy, gifts of prophecy, and telepathy with thaumaturgical powers and political influence. They had "a preference for the mixed life, held to be superior to the cloistered life if not the contemplative one," which included a "sense of having a social and ecclesiastical mission."
The first chapter is excerpted at the link above. The book is expensive, but there are thirteen pages of introduction at that link, with some bios of religious women.
---
The Life of the Anchoress, Mary Wellesley, 2018
---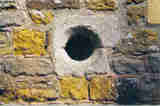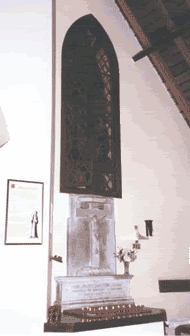 Some other Anchoresses:
Kennera Oct 29
4th cent. An anchoress in Kirk-Kinner in Galloway in Scotland. source for those in this format
Trea Aug 3
5th cent. Converted to Orthodoxy by St Patrick, she spent the rest of her life as an anchoress in Ardtree in Derry in Ireland.
Attracta (Athracht) Aug 11
5th cent. A contemporary of St Patrick in Ireland. She lived as an anchoress, first in Killaraght on Lough Gara and then in Drum near Boyle. Both eventually grew into convents. She was venerated throughout Ireland.
Keyna (Keyne, Ceinwen) Oct 8
5th cent. Born in Wales, she lived as an anchoress in Cornwall. Some say that Keynsham in Somerset was named after her. A church in Cornwall is dedicated to her. Ermelinda (Ermelindis) Oct 29
+ c 595. An anchoress in Meldaert near Tirlemont in Belgium.
Galla Oct 5
+ c 550. A lady in Rome who, as a widow, led the life of an anchoress on the Vatican Hill, where she died of breast cancer.
Monegundis July 2
+ 570. A woman in Chartres in France who became an anchoress after the death of her two daughters. She spent most of her life near Tours.
+ c 595. An anchoress in Meldaert near Tirlemont in Belgium.
Tarsicia (Tarsitia) Jan 15
+ c 600. An anchoress who lived near Rodez in France.
Buriana June 4
6th cent. Born in Ireland, she lived as an anchoress in Cornwall. St Buryan is named after her.
Syra (Syria) June 8
7th cent. By tradition, the sister of St Fiacre (Fiaker) who followed her brother from Ireland to France and lived as an anchoress there.
Berlinda (Berlindis, Bellaude) Feb 3
+ 702. A niece of St Amandus, she became a nun at Moorsel near Alost in Belgium and later an anchoress in Meerbeke.
Osmanna (Argariarga) Sept 9
+ c 650. A holy virgin who left Ireland for Brittany and became an anchoress in a hermitage near Brieuc.
Modwenna July 5
7th cent. An anchoress and later Abbess of Polesworth in Warwickshire in England.
Pega Jan 8
+ c 719. The sister of St Guthlac of Crowland in England. She too lived as an anchoress. The village of Peakirk (Pega's church) in Northamptonshire is called after her.
Kentigerna Jan 7
+ 734. Daughter of Kelly, prince of Leinster and mother of St Coellan. After her husband's death she left Ireland and became an anchoress on the island of Inchebroida on Loch Lomond in Scotland, where a church is dedicated to her.
Withburgh (Withburga) July 8
+ c 743. Youngest daughter of King Anna of East Anglia in England. After her father had fallen in battle, she became a nun and lived as an anchoress at East Dereham in Norfolk, founding a convent there.
Candida Jan 27
+ c 798. Mother of St Emerius, who founded the monastery of St Stephen of Bañoles in Spain. She reposed as an anchoress near the monastery.
Etheldritha (Alfreda) Aug 2
+ c 835. Daughter of King Offa of Mercia. She lived as an anchoress at Crowland in Lincolnshire in England after the murder of her betrothed, St Ethelbert.
Lufthild Jan 23
+ ? 850. A saint honoured near Cologne in Germany, where she lived as an anchoress.
Tancred, Torthred and Tova, Sept 30
+ 869. Two hermits and an anchoress martyred by the Danes at Thorney in England.
Salome and Judith June 29
9th cent. Salome is said to have been a princess from England who was exiled. She was befriended in Bavaria by a pious widow named Judith. Both became anchoresses at Oberaltaich in Germany.
Brigid Feb 1
9th cent. Sister of St Andrew, Abbot of St Donatus in Fiesole in Tuscany in Italy. She was carried to her brother's deathbed by angels and reposed as an anchoress in the Apennines.
Wiborada (Guiborat, Weibrath) May 2
+ 925. A Swabian noble in Germany. When her brother became a monk at St Gall in Switzerland, she became an anchoress not far away, and here she lived the rest of her life. She was martyred by invading Hungarians.
Elfleda (Aelflead) Oct 23
+ c 936. A princess who lived as an anchoress in Glastonbury in England. She was revered by St Dunstan.
Rachildis Nov 23
+ c 946. An anchoress who lived near the monastery of St Gall in Switzerland.
Baya and Maura Nov 2
? 10th cent. Anchoresses in Scotland, St Bava guided St Maura and the latter became abbess of a convent.
Aurelia Oct 15
+ 1027. A princess who lived for fifty-five years as an anchoress in Strasbourg in France.
Willa Oct 15
+ c 1050. A nun at Nonnberg near Salzburg in Austria who reposed as an anchoress.