Birthing source material
Preparing for a water birth http://floridahomebirth.com/handouts/waterbirthprep.pdf
This information is repeated on another couple of pages but this PDF has credits and early dates.
Dayna used it as her own here: http://web.archive.org/web/20030515165118/http://www.gentlebeginnings.org/how_to_prepare_for_a_joyous_wate.htm
---
The Benefits of Waterfor Labor and/or Birth http://www.waterbirthinfo.com/benefits.html
was the source material for Dayna's page:
Benefits of a water birth: http://web.archive.org/web/20030211133345/http://www.gentlebeginnings.org/benefits_of_water_for_labor_and.htm
"The original page (Wayback lists it as March 6, 2001) even cites resources at the bottom, that are missing from Dayna's page" (note from the researcher)
---
The person who sent these links wrote "I'm thinking every page on Gentle Beginnings is taken from somewhere else. Dayna's: http://web.archive.org/web/20030702013634/http://www.gentlebeginnings.org/raspberry_leaf_tea.htm

The text is half from birthjunkie.com and half from a tea box!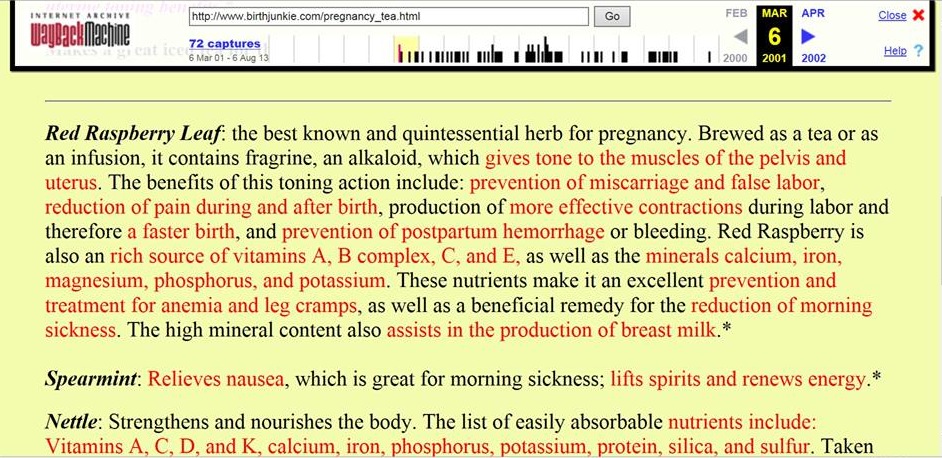 ---
Doula information lifted from a brochure downloadable here: http://www.cincinnatidoulas.org/about/ More information/better link coming.

Dayna's version: http://web.archive.org/web/20030720194047/http://gentlebeginnings.org/what%20is%20a%20doula.htm.
---
Note from one of the researchers:
Neither Debra Pascali-Bonaro nor Elizabeth Davis, authors of "Orgasmic Birth," seem connected to the three people plagiarized above (Jennifer Shelton, Robin Elise Weiss, Brian Alexander). Ms. Pascali-Bonaro was the filmmaker, alone.

However, Dr. Christiane Northrup was featured in the film and has written a testimonial for the book.
---
intro/index
outside links