Perfect Vision

Notes on the group "Perfect Vision," from Cambridge, England, in the 1980's
[By Sandra Dodd except where otherwise noted.]
last updated February 21, 2010

I need to build to this backwards. Because of home education, I met a family with a little boy named Adam. I stayed with them a couple of days in the summer of 2009, when I went to the U.K. to speak at a small conference. Later that year, my 18-year-old daughter went to stay with them. During that time, a letter I had received from David Bowie LONG ago, when I was 14 and he wasn't famous at all, was included in a newish blog about letters and cards from notable people, here: My real name is David Jones." Someone at Rex Features wanted good images of the letter, so in a sense of adventure I sent the packet to my daughter, Holly, at the Daniel home. Adam's parents are James and Julie Daniel. James agreed to take Holly and the letter, photos, newspaper and packet to the Rex Features office in London.

During this it was mentioned that James had been in a band, too, and I asked him to tell me more. Here's the note he sent December 4, 2009, and I have his permission to share it:
A long time ago (1980 - 1986), there was a band called "Perfect Vision". It went through various line-up changes in the first year or two, then settled down as four people—me, Steve Xerri (pronounced Zerry), Jon Lewin (who died of a brain tumour in May 2000) and Giles Thomas.

We played what was known at the time as Indie (think Depeche Mode but with guitars as well as synths), and became slightly successful. By this I mean that we made 3 records (of which 1 was an album), all paid for and distributed by a "proper" record label rather than being self-financed, got radio airplay (mostly on local radio stations but also some on BBC Radio 1—the BBC's national pop radio station), were invited to record a session by the late John Peel for his Radio 1 programme and had an excerpt from a video we made broadcast on BBC TV's "Old Grey Whistle Test" when Andy Kershaw was doing a special on Cambridge bands (which is where we were based). But we never made any real money.

Recording the John Peel show session was the coolest thing—those sessions are recorded in the BBC's studios in Maida Vale (London). The equipment the BBC had there was amazingly advanced and a delight to work with compared with what we were accustomed to and we did some very good stuff there in a very short time.

We split up in 1986 when people's jobs started being more promising/exciting than the music-making, esp. since that meant that two of us were living and working in London when the other two were still living and working in Cambridge.

Since then Steve has been in the habit of googling "Perfect Vision" from time to time, just to see what's up—but really expecting the answer to be "nothing".

Earlier this year, Steve found this site:

Perfect Vision: Tongues Out mLP

Seems that someone out there was still paying attention. We still have no idea how he found out about our music - the records were on national distribution in Britain, but there was never any distribution deal covering the USA. He has presumably got hold of a real live vinyl record, since he has posted a picture of the sleeve—we didn't send him that. We decided that we'd help him out by sending him a couple of CDs with some of the other material on it. Some of the publishing rights are still owned by the BBC (the Peel session stuff), but the rest of it has lapsed since Backs Records went out of business, so we can do what we like with the non-BBC stuff from a copyright/royalties point of view. I have to say that I admire his taste—not just that he likes our stuff, but the track he likes most is the track I like most, too. So there you are.

All the best

James
---
James is willing to have his e-mail shared: james [at] personalbest.ltd.uk
In addition to Adam, the son I met, James is also the father of Oliver and Meredith.
---
There was another post about the group, after Steve had contacted the blogger (Goutroy):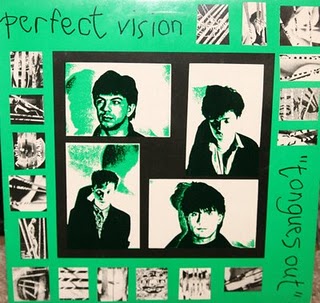 PERFECT VISION: Discography
One of the comments on that blog post was this:
Perfect Vision were very much the best band in town when I lived in Cambridge in the early 80's. It was a privilege to witness their evolution and many live shows during my 5 years in the city. One recollection was my first encounter with a very early version of the band, then playing a popular basement bar with a live drummer! (he didn't last long, the band quickly moved on to using a reel-to-reel backing track for live shows). Later I also got to a few of their shows on the road, notably a performance at the Beatroute Club in Soho's Greek Street, a venue well known as the spiritual home of the New Romantics including Spandau Ballet!

One point I must make was that it was (and remains) so rare to find a band blessed with TWO great singers. The voices of Jon Lewin (voice & rhythm gtr) and Steve Xerri (voice & electronics) were both so rich in tone yet with quite distinctive styles. Im also delighted to be the proud owner of at least 6 official cassette releases featuring the work of the band (some are compilations to which they contribute just a few tunes) including a retrospective collection of previously unreleased tracks and out-takes on which some amazing ideas and clips can be found. In conclusion I'll mention just a couple of random recollections:

Not many bands are sufficiently disciplined to include band aerobics sessions as part of their rehearsal routine and finally I remember Jon mentioning to me on one occasion that he thought the band had written and demo'd around 81 or 82 songs! These guys knew what they wanted and worked so very hard in trying to achieve it!

with best regards to the guys (james, giles, steve & jon) from nick gough (still very much a phototakerguy and occasional tour manager on the underground live music scene - check my blog & galleries on myspace - there i disguise myself as 'boundlessenergy')
---
about that David Bowie letter from 1967

More about unschooling, which is how I met James Daniel