Pendar the Bard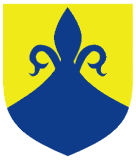 The Honorable Lord Pendar the Bard passed away on April 30, 2009, at his home in al-Barran. He is survived by his lady wife Kiena (Rhonda Munro) and their son Iannan.
Pendar had several arts and service awards for his work as a bard, a singer, and a herald.
click to enlarge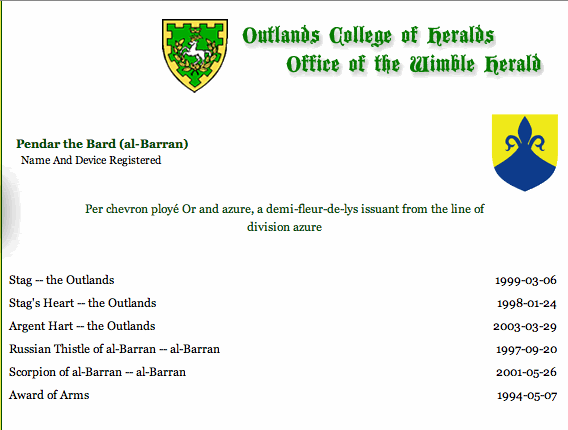 ---
note received in August 2014:
Pendar was my roommate in Albuquerque when he started in the SCA, I met him when he moved into the area and started a Darkon group out by UNM. He was a deeply loving man and a good friend, there are still songs that when I sing them I still hear his voice.
The last time I saw him was at my wedding in '95 still the jovial good natured gentleman I had always known. I regret not keeping in touch as a good friend should have. My deepest sympathies to his family, and my warmest regard that you got to share your life with such a truly amazing gentleman.
I am once again active in the SCA, and at every circle I toast to a great friend, an exceptional teacher, a skilled voice, and a rare soul.
Cheers buddy, I miss ya.
Cary Q.
Sabaku no Kumo
Kingdom of Atlantia
Barony of Bright Hills
When I first started playing in the Society in 1999, Pendar was one of the first people I met. He welcomed me with open arms and no matter how many times I bugged him, he showed nothing but patience in helping me learn heraldry and putting my device together. Also his words of wisdom and support towards my daughter Willocqueau (Willow) will be something that we will hold in our hearts forever.

Our hearts, thoughts, and prayers go out to his family for this is truly a great loss not only to the society but to the world.

Bronwen and Family
---
Pendar's was a friendly voice around the bardic circle, whether an Outlandish fire or an al-Barranian living room. His art was a joy to all who heard it, and will be missed.
Many many many residents of al-Barran, and the Outlands at large, whether current or former, have taken advantage of Pendar's heraldic advice, and his service to the populace as Scorpion, Rampart and White Stag was freely given.
Pendar, you shall be missed.
Æðeluulf
munec
---
Pendar, he was such a gentle kind loving man who was loved by so many and missed in al-Barran. I saw him a few short weeks ago for a few minutes and was so glad to give him three hugs in ten minutes. He was exicted to be planning on a possible comeback to the SCA at lonely mountain and reconnect with his love of singing and playing. His voice will live on in all our memories and song books.
love to his family....
Crystal Liberty
---
My warmest condolences to Pendar's Family. He was a good man and a loving father. He will be deeply missed.

Thorkell Bjornsson
---
He was truly a wonderful person who touched many lives. My deepest sympathies to his family. He will truly be missed.

Love
Dalia
---
He was so kind and patient and talented. I remember listening in thrall to his beautiful voice my very first Outlandish. What a terrible, terrible loss.

Our deepest condolences to his family and loved ones.

Lady Gytha Karlsdotter
---
I will miss his voice in song and in court, he was fine man and his knowledge of heraldry was amazing..may god bless his family and may his spirit live on forever..

Hug someone and tell someone you love them for times like these remind us life is short and precious so don't wait!!

Hugs to everyone in al-Barran
Natasha
---
It's a great loss. His heart (and patience) were as big as his voice.

Might I suggest to the autocrat that the Outlandish Bardic be a celebration of his talent, and perhaps an empty seat brought to the fire to honor our absent friend.

Cailte
Past Bard of al-Barran
Windhover Bard IV
---
When I heard the news my heart sank to my feet. I have known Pendar since we met in high school. He was a tremendous inspiration to me and a major reason I had the courage to become a bard. I do agree that a memorial Bardic would be wonderful. And yes you should get in contact with Solvieg about the Bardic. If I can help let me know. Elanor O'Halloraine, Chamberlaine of al-Barran past Bard of al-Barran
---
This makes me very sad. He helped me design my device. I hardly got to know him before he fell ill and didn't come out to play for a long time. :(

Rest well, good man.

Bantiarna Soerlaidh (Shyla) inghean Robeard, CSH
Kingdom of the Outlands - Minister of the Lists
Barony of al-Barran
---
Marie de Blois wrote:
Sad news, my fellow heralds.

This morning, His Lordship Pendar the Bard, Musimon Herald Extraordinary, was found dead in his home office.

Over the course of many years, he was: White Stag Principal Herald, Rampart Herald (twice!), Scorpion Pursuivant for the Barony of al-Barran, Bard to Kings of the Outlands (and at many bardic circles everywhere), seneschal of the College of Blaiddwyn, a husband and father, and responsible for bringing in and educating many heralds in the Outlands.

He will be missed by many throughout our kingdom and the SCA.

Marie de Blois a sad White Stag and one of the many who wouldn't be a herald without his encouragement
---
This wonderful man will be missed. His impact has been immense. He has had such a positive impact on so many people, just by him being himself. It's amazing to read about how just meeting him, however briefly has affected people, I know it did me. That is a great testament to his life. His great tales and songs, and his light in this world will be missed.

Blessings,
Kjerstin & Arundel