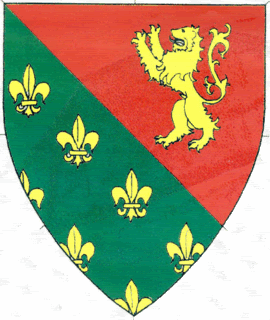 Osric Cumbra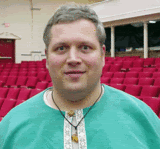 Greetings! Some of you may have known Master Osric Cumbra (Elbe Cheek) from the Cincinnati area. He taught a number of classes at Pennsic on a number of cooking topics. He passed away yesterday, July 12, from a massive heart attack. He was a Laurel in cooking and produced excellent feasts. I'm not certain how old he was but he might have been in his 40s. I am still moving in disbelief and feeling quite mortal.
Alys Katharine
Published in the Lexington Herald-Leader on 7/15/2008:
Elbert Alston V. "Elbe" Cheek
CHEEK Elbert Alston V "Elbe", 50, husband of Alison Ingrid Grande Cheek, died Sat, July 12, 2008 at Central Baptist Hospital. Born in Lexington, he was a son of Dolores Slaughter Cheek, Lexington, and the late Elbert Alston Cheek IV. He was an electrical engineer with Lexmark, a 1975 graduate of Tates Creek High School, a 1980 graduate of the University of Kentucky College of Engineering, a longtime member of the Society for Creative Anachronism and a member of Second Presbyterian Church. Survivors other than his wife and mother are a daughter, Naomi Cheek; a son, Kenneth Cheek; mother-in-law, Carol Goodin, Lexington; father-in-law, Edward (Janie) Grande, Corbin; a sister-in-law, Kathryn Jane (Michael) Grande-Allen, Houston, TX; a niece, Sydney Allen; a nephew, Sean Allen; an uncle, Master Sgt. (Ret.) Basil R. (Mae) Slaughter, Henderson; an aunt, Ida Slaughter Mattingly, Henderson; numerous cousins; and a special cousin, Mary Cheek (John) Bahe. He was preceded in death by his grandmother, Naomi Hottes Cheek. Funeral services will be 2pm Thu at Kerr Brothers Funeral Home-Main St. by the Rev. Darla Blatnik. Burial will be in Lexington Cemetery. Visitation will be from 6-8pm Wed. Contributions are suggested to Habitat for Humanity, 1260 Industry Road, Lexington, KY 40505 or to Heifer Project International, One World Avenue, Little Rock, AR 72202.
page maintained by
Ælflæd of Duckford