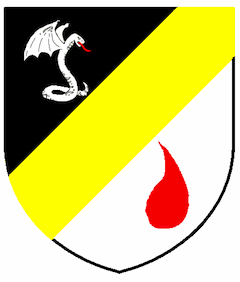 Mathgamain Ó Néill
October 22, 2011

Funeral:
Friday, October 28, 2011
2:00pm until 4:30pm
Daniels Family Funeral Home
7601 Wyoming N.E 87109
Neil Mahoney, Obituary (Albuquerque Journal; October 29, 2011)
MAHONEY -- NEIL Age 46, left the earth on October 22, 2011 in Albuquerque NM. He was a long time resident of Albuquerque, leaving only to serve in the US Army 82nd Airborne during Desert Shield/Desert Storm. Neil was born in Pierre, SD to Mike Mahoney of Casper, WY and Julie Claymore of Albuquerque, NM. Neil is survived by his namesake grandmother also Neil Mahoney; his brothers Kyle Claymore and Michael; sister Melisa; a host of the Mahoney clan; daughters Cassie and Skye; grandmother Beulah; uncles Daryl and Ron; cousins Nathan and Andrea Williams; one grandson "Ziggy". Neil was a graduate of Sandia High School in Albuquerque where he played soccer, YAFL and coached a woman's football team.
He left for military service with the 82nd airborne in January of 1988 and was honorably discharged in May of 1991. As a paratrooper he was awarded the Army Service Ribbon Parachute Badge and National Defense Service Medal and M16 expert. He returned to Albuquerque,NM and worked as an auto mechanic for 20 years most recently with Brooks Auto with his long time friend Richard Brooks. Neil was the past president of the NM Airborne Association and enjoyed all things military, especially his "Band of Brothers" He retired from work this past year with the help of the Veterans Administration.
Neil has been a member of the Society for Creative Anachronism since 1995 as a heavy weapons fighter. He enjoyed the privilege of being a Stags Blood and a part of the Bengal Brotherhood.
His best friend and confidante was Pugsley, who misses his "Dada" but knows he is well and happy in the next world. (Pugsley is a Chinese-pug)
A skilled model maker, gamer, avid hunter, sometimes artist and poet. Neil had a ready laugh and could also provoke a laugh with an impromptu stand up comedy routine, anywhere, anytime.
Neil is loved and supported by his family and many friends who join in celebrating his life.
To view service information or leave a condolence, please visit: www.danielsfuneral.com Neil's care has been entrusted to: Daniels Family Funeral Services 7601 Wyoming Blvd NE Albuquerque, New Mexico, 87109 505-821-0010
---
page maintained by
Ælflæd of Duckford