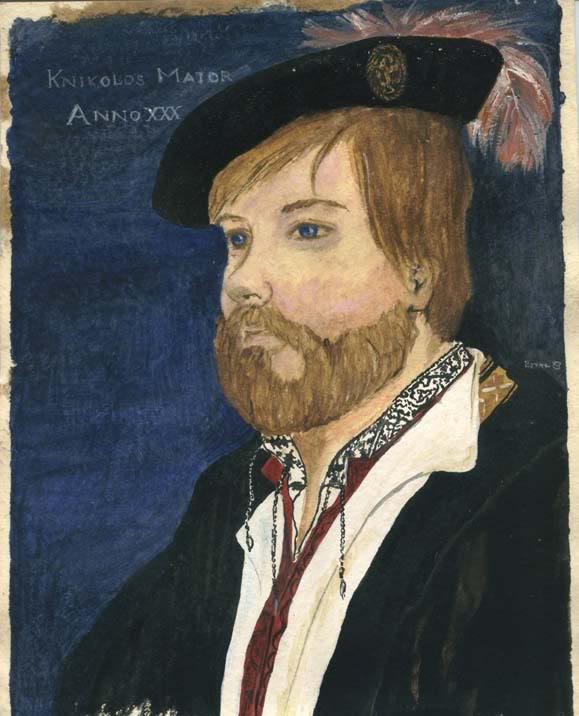 Knikolos Major of Salem-by-the-Sea

Knikolos was born in the small fishing village of Salem-by-the-Sea near Plymouth in 1556. Orphaned at the age of 12, he arrived in London to live with relatives. Being an artistic sort, he started working at the Globe theatre as a scene builder and costumer. He founded the Tudor Dudes in Meridies and caused many men with the stature of Old King Henry to be dressed in their best.

He was a founding member of the Canton of Mathom Trove in Trimaris. He served as a herald to the Principality of Trimaris and the Kingdom of Meridies in courts, on the field, as a group herald and commenter, and as an educator, creating Academy Heraldicum and the roots of the class framework for the School of Heraldry in the Royal University of Meridies, from which he also held a Scholar's Degree. He served as the Kingdom Chronicler and created the office of Royal Chancellor for John II and Rondallyn II. He was Protégé to Master Taliesynne Nycheymwrh and later to Mistress Rondallyn of Golgotha in Meridies. He was elevated to the Order of the Pelican on April 27, 1991.

He moved to the Barony of the South Downs in 1984 to marry Christianna MacGrain, and with her, founded the household of Mermayde Keepe and the business King's Taste Productions. He had a very dry sense of humor that often got him into trouble, and he loved a good practical joke. Knikolos passed away in 1592. Miles King passed away on February 13th, 1992, in the costume shop where he worked as the manager. He is survived by his wife, Mistress Christianna MacGrain, OP, OL, (Christine Seelye-King).



NOTES ON THE PORTRAIT, by Mistress Christianna:
Mistress Berta of the Southern Isles, OL did the portrait. It is such a wonderful picture of him, although not entirely accurate. Knik's eyes seem to be blue (Miles' eyes were more hazel), and he requested that he be given Carlwyn's beard. Carlwyn had a great beard, Knik's wasn't as lush.
Some of this information also appears on a Meridies Pelicans' site.
page maintained by
Ælflæd of Duckford