Master Terafan Greydragon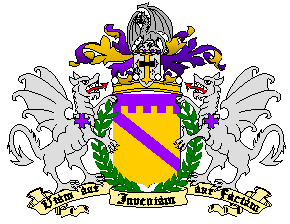 ---
Atlantian Award Information
(awards from the East Kingdom, Drachenwald, and Atlantia)
---
Man impales self, dies during medieval horseback stunt in Northern Kentucky
WILLIAMSTOWN, Ky.

A man was killed while performing a stunt at a medieval event in Northern Kentucky over the weekend.

Peter Barclay, 52, of Virginia, was performing a trick on horseback when, authorities said, a "freak accident" occurred.

It happened Saturday during the Society for Creative Anachronism event in Williamstown.

The president of the SCA, John Fulton, said Barclay was trying to spear a paper plate on the ground.

Barclay's brother posted on Facebook that the metal tip of his brother's lance hit the ground, flipped and then impaled him under his sternum.

"I've never had an injury on the field like this, ever, that led to something like this" said Fulton.

We're told Barclay was flown to a hospital, but died en route.

The SCA said Barclay was a master within the organization and had practiced medieval sports for more than 30 years.

He was known within the society as Master Terafan Greydragon.

"Everybody that knew him is just dead stunned. His ability, skill and attention to detail is just total" said Fulton.

His brother said Barclay was a retired lieutenant colonel who had had a distinguished career in the U.S. Army.

He leaves behind a wife and two daughters.
---
Equestrian Killed At Kentucky Medieval Event
WILLIAMSTOWN, Ky. (LEX 18) –

An equestrian was killed in a freak accident during a weekend Medieval-themed event at Kentucky Cowtown in Williamstown.

According to the Hamilton County Coroner, Peter Barclay was pronounced dead in Cincinnati, Ohio.

Barclay, better known as Master Terafan Graydragon, died while competing in an event with the Society for Creative Anachronism. Per a preliminary coroner's report, Barclay was competing in the event and accidentally impaled himself with his lance while doing a trick.

Grant County officials confirm there was an incident and that the individual was airlifted to Cincinnati, where he passed away from his injuries.
---
SCA obituaries
page maintained by
Ælflæd of Duckford