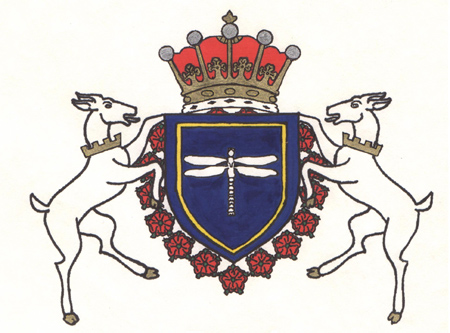 Countess Matilda Seton ("Maud," formerly Aindrea MacCullaich), a Mistress of the Pelican, was Gimlet Herald, a member of the Company of St. Martin, and was seneschal of the incipient canton of Readstan, within the Barony of Caerthe.

A longtime Defender of the White Scarf, Her Excellency is also a Court Baroness and a Countess, having served (as Queen Aindrea) with Martino, the 28th King of the Outlands.

With Mistress Anne Bigod, Matilda served as Baroness of Caer Galen for many years.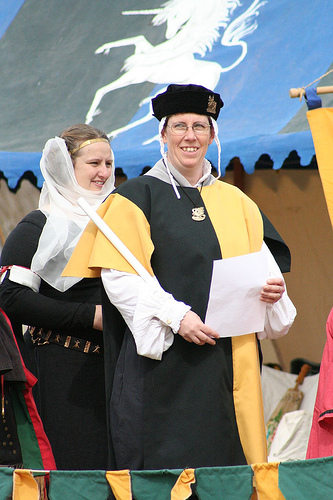 HONORS:

Countess, May 13, 2000
Mistress of the Pelican, October 18, 2003
Order of the Stag, July 2002
Grant of Arms, April 25, 1998
Defender of the White Scarf, July 9, 1995
Espada de Oro, September 20, 1997
Scorpion of al-Barran, July 14, 2001
Award of Arms, July 9, 1994
Baroness of the Court of the Outlands, November 14, 1998
Heart of the Scorpion of al-Barran, May 25, 1996
Queen's Cypher, Queen Ileana, November 9, 1996
Lady of the Rose, May 13, 2000


Outlands OP, for updates and more current info

STUDENTS:

Don Otteaux the Black Hearted (who had become a cadet at A Sworded Affaire in April of 1999) was made a Defender of the White Scarf on May 25, 2002

Lord Antoine du Vallier has been a cadet since Lonely Mountain Defender in July 1999.

Lady Skyler Skye became a cadet on October 18, 2003. She currently resides in the Barony of Fontaine dans Sable.
---
---
The rendering of the achievement is the work of Duke Artan macAilin.
The photograph of Anne and Matilda is by Sir Zachariah de Kane, in March 2007.

This page is the work of Ælflæd of Duckford, who knows it is outdated...