Guest Fest, al-Barran
Meet People and Learn Things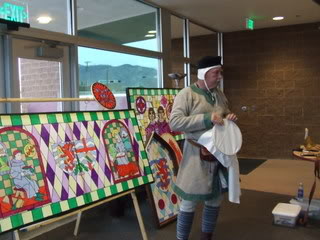 Master Tomas Fraser, on the Making of the Stained Glass Windows for Midwinter
and other topics (shoes, scientific instruments, bone needles, shield, hood and some other things not photographically documented)
April 5, 2007

Master Tomas was at the Battle of Hastings in 2006.... Click on a photo to see a very large version you can move around in and see great detail (or move those to your computer and resize if you wish). Tomas wore and brought some of the clothing he made for that battle, and brought his shield. Some details are in photos further down on this page. He brought the stamped leather scabbard he made which was beeswax impregnated and had chased metal fittings.

---
The main topic was the Stained Glass Windows (which are actually cloth and paper, and all the details and directions are in a PDF file here: Stained Glass Windows. Many photos were taken without flash. When there are two, one is to show how shiny the window looks (but it reflects the flash) and then the details, but the glassy-looking surface is lost. The window that opens is for Master Tomas' tent, not for the Midwinter site.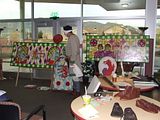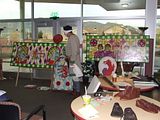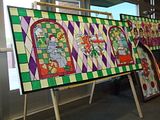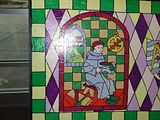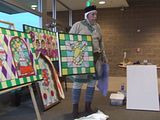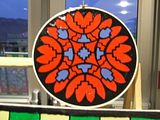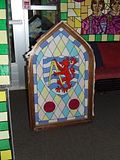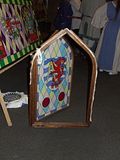 ---
SHOES have their own page.
---

INSTRUMENTS click for closer view
---

BONE NEEDLES click for closer view

A PDF file on bone needles with much better photos and full directions might be coming soon.

---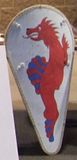 SHIELD that Master Tomas used at Hastings click for closer view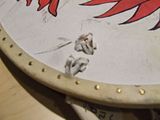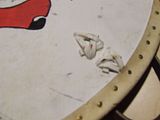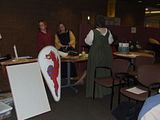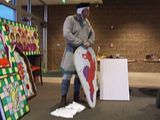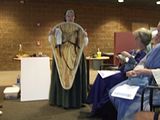 Straps are fastened with leather knots. There are arm straps and a shoulder strap (the cloth is just a name-tag).

---

HOOD click for closer view
---
In attendance: Cristin, Suzana, Asta, Beatrice, AnneAliz, Brennainn, Bardolf, Howard, Jayne, Amy, Ælflæd (who took the photos)
Please let me know if I've misnamed or left anyone out.

[email protected]