Unschooling Library!
Special until the end of November 2012
I have some extras of Pam Laricchia's book Free to Learn, and will sell them in sets with my two books. Consider getting loaner books for friends, park days, playgroups. Buy them to distribute as individual gifts. Buy the set as a present for a mentor or for a new unschooler you're helping out!
U.S. Addresses: $50
(mailing cost of $5.30 is included)

For Canadians: $55
(mailing cost of $12.95 is included in the price)
Outside North America: $60
(mailing cost of $16.95 is included in the price)

It's a better deal for foreigners than for domestic/U.S. mail, but that's what's so special about this special.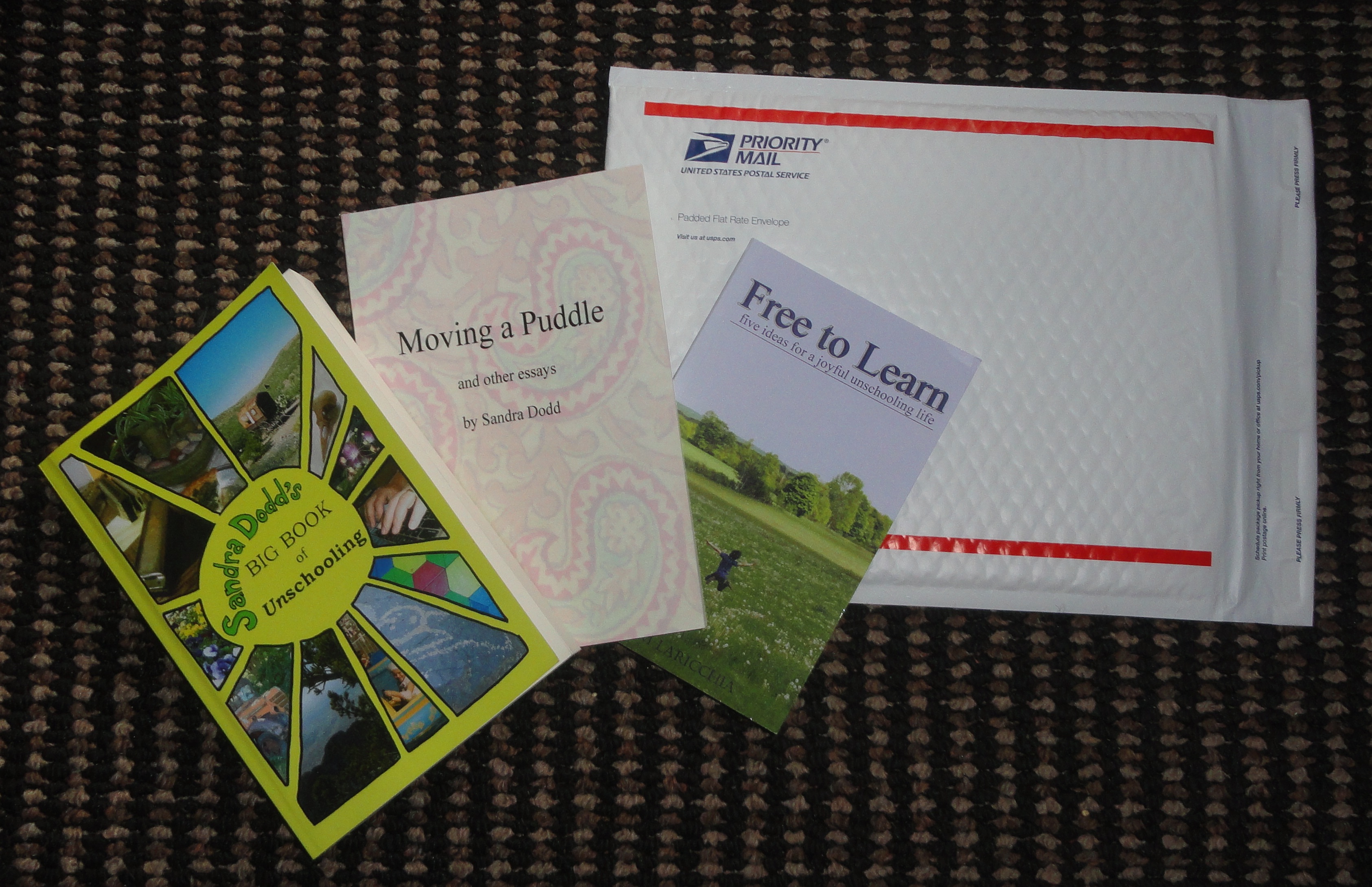 Why now? It's nearly Christmas (or alternative winter gift-giving days). For years, the only flat-rate priority mail envelope available was only big enough for one Big Book or Moving a Puddle and some thinking sticks. Earlier this year, though, they came up with a padded envleope that will hold all three books for a price nearly as low as it has been costing for one book.
In January, Pam Laricchia's second book Free to Live will be out. Read this one now, before the new one comes!
The books will arrive very quickly after you order them, and it will help both our families have happy holidays.
ABOUT THOSE BOOKS:
(click for more info on any book)

I knew unschooling was good but your book made me realise how amazing it really is. Most other books or articles I have read have made it sort of wish washy but yours is full on, no holds barred, I love it. My kids will love it too! (about The Big Book of Unschooling)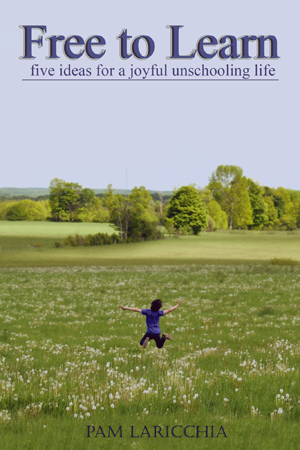 Free to Learn is an elegant presentation of ideas that can help a family move from frustration to joy. For a family already involved in unschooling, the book can be a refresher and an inspiration to move ever nearer to the principles of parenting in this expansive way. It could be a great gift or loaner book for friends and relatives whose understandable fears and prejudices are keeping them from seeing the value of unschooling.

Moving a Puddle is fabulous! I lend mine out all the time! I highly recommend it :-)
---