MEDIEVAL BAGS: Wallet, Scrip or Satchel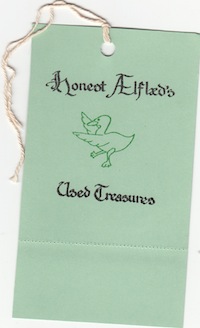 I used to have a hobby-within-a-hobby, Honest Ælflæd's Used Treasures. I bought things from thrift stores, yard sales and the flea market to re-sell within the SCA. By knowing what looked period and what didn't, and being aware of what people needed and what was too breakable or unpopular (artistically), I was able to make enough to pay for site fees and gasoline to events for Gunwaldt and me for a while. After we had children, the shop faded pretty quickly, which was fine. It had been fun.
The selling of used things in the regular world has waves in it. Many things in thrift stores and charity shops are 20 years old. Not old enough to be antique; old enough to be embarrassing and irritating to have around, though, to some people. Then there are the clean-outs from older people who, from infirmity or worse, leave their homes and all their stuff is taken away.
It was the former condition that once filled shops with leather shoulderbags from the 1960's and 70's. Tandy Leather Company used to sell kits for making shoulder bags without any metal fittings—only punched and laced, or sewn otherwise. There were other patterns that involved only rivets. Then there were variations created in that fashion by hippie craftsmen, of that leather called "oak" and of suede and rough-out. NICE, solid bags, but they were only popular for a decade, and hit the thrift stores in the late 1980's and early 1990s. I bought dozens of them.
When we went to the SCA's 25th anniversary, I took a few dozen of those, with a Gunwaldt-made display rack, and another merchant undertook to sell them for me, because I was teaching five classes and had two young boys and a teenaged child-minder with me. In part because I wouldn't be there to talk to people, and more because I had the urge to document, I left a folded sheet of explanation inside each bag. I came across the extras the other day (in October 2011), and thought it might be worth sharing. It's documentation by statues and dictionaries, and in this case, there's not going to be much better. Feel free to copy or share.
If you click the jpg file below, it will open a PDF. This was in the days of physical paste-up. The text was done with Word on a Mac IISi and a laser printer, and photocopies of photos were taped on the original and then Xeroxed. The original paper was green, but my scanner couldn't imagine I really wanted that still.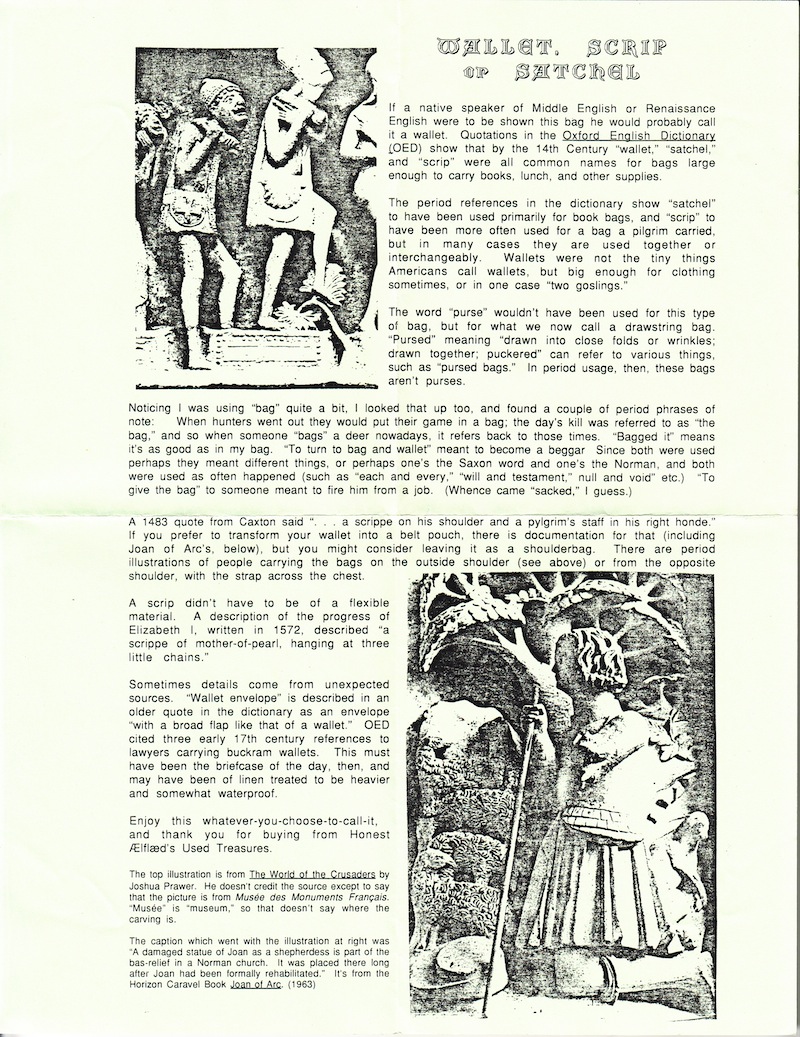 Why Write? Some thoughts, from pre-internet days, on writing in the SCA

Words themselves, and bathhouses

Ælflæd of Duckford