Art about Art, Cartoons about Cartoons, Plays about Plays...
Posted to the AlwaysLearning list, August 2006:
Japanese Cartoon
Strongbad answers the question "What would you look like as a Japanese cartoon and what would it be about?" This is art about art. These are cartoons about cartoons.
I added those last two sentences this morning to the page on art http://sandradodd.com/arts

And after I wrote it I realized that last night when Holly and I got back from having seen Lady in the Water, I told Kirby and Marty "It's a fairy tale about fairy tales. It's a movie about movies."

I guess that idea was still in my head when I wrote "This is art about art. These are cartoons about cartoons."

So there are probably lots of other such things, like paintings about paintings (There's a Norman Rockwell of him doing a self-portrait, looking in a mirror. I should put that in my mirror art collection, now that I think of it.) http://sandradodd.com/mirrors

There are songs about songs.

I can think of a few plays about plays, but I know them as movies of plays about plays.

It's a fun idea and I just love fun ideas that can turn into years- long scavenger hunts.

Sandra

Painting about Painting

"Triple Self-Portrait", by Norman Rockwell. The link leads to more information and a larger image that can be manipulated and examined closely.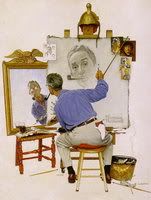 Whoa! Speaking of "LINK"!
T-shirt art from
Teefury.com
August 25, 2014.
I wish they credited their artists every day.
This is by an artist in Spain who goes by "Naolito."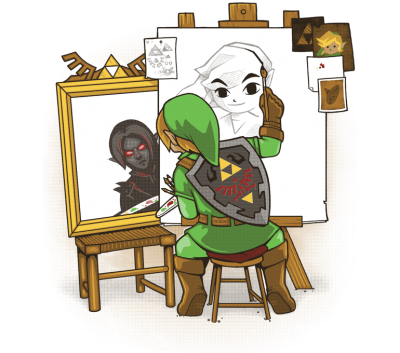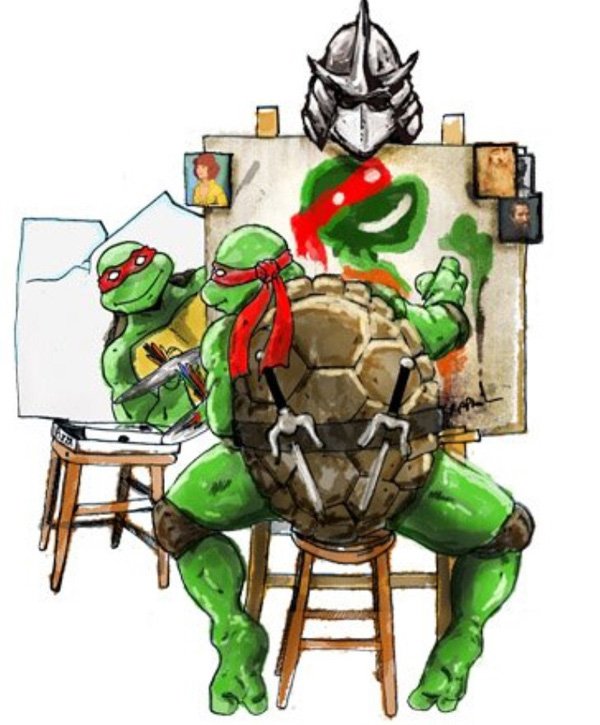 Click for more TMNT mashups
---
Poetry about Poetry

"I think that I shall never see
A poem lovely as a tree..." [Trees, by Joyce Kilmer]
---
Songs about Songs

"My gift is my song and this one's for you..." [Your Song, by Elton John and Bernie Taupin]

"This song is just Six Words Long..." [Weird Al]

"La la la la, la la la la,
Elmo's Song"
(predates "Elmo's World") [Sesame Street; composed by Tony Geiss]

Songs about Singing, or Singing about Singing, to fit this page's pattern.
---
Plays about Plays

Rosencrantz and Guildenstern are Dead, by Tom Stoppard

Noises Off, by Michael Frayn

Death Trap, by Ira Levin

Both "Noises Off" and "Death Trap" were made into movies.
Michael Caine and Christopher Reeve star in both.
---
Movies about Movies

Bowfinger, written by Steve Martin, directed by Frank Oz

Singin' in the Rain, about the end of the silent movie era.

Last Action Hero, a movie about reality, movie-reality and "the real world"
---
TV Shows about TV Shows

The Dick Van Dyke Show

The Mary Tyler Moore Show

Greg the Bunny

Studio 60

30 Rock
---
Korean Drama about Korean Dramas

The King of Dramas (also translated as "The Lord of Dramas" and "Drama King")
---
---
Dance about Dance
---
Cartoons about Cartoons

Art

Music

History

Movies